I'm off to Nashville this week for The Rabbit Room's annual Hutchmoot conference, and I'm looking forward to soul-refreshment and good food and a break from the busy of life to reset. Whether you're able to take a few days for such a gift or not, I've linked some articles below that are focused on soul care and refocusing. Maybe they'll help you reset.
Around the Web
Autumn Soul Care
Lore Ferguson Wilbert shares books, podcasts, music, and other resources for soul care.
Over the past two months (and on through November) as I head toward the release of Handle With Care, I wanted to quiet some of the unrest and unhealth in my soul. There have been some patterns of anxiety, ignoring my gut sense or intuition in favor of what seemed "right" or obligatory, and a general passive engagement with the Lord. In laymen's terms, I was "going through the motions." So, in true form, I sat down, made myself a curriculum, and set myself on it. It was robust, full, ordered, and I knew it would jar my spirit and soul in the ways I needed.
Read more
The Three Wishes of Jude
If you ever got three wishes, Clint Archer notes, you might want to be prepared for them. In this piece, he examines what wishes Jude would point us to.
The Woodcutter's Wishes is an ancient legend that has several variations. The basic story involves a woodcutter and his wife who felled trees in a forest. As they come to a particular tree they hear the barely audible whisper of a fairy begging them not to cut down her home.
They decide to leave the tree alone and the grateful fairy grants the couple three wishes. The couple returns home somewhat bewildered, but very excited about this amazing windfall.
Read more
NEWEST Picture Books About Friendship
Melissa Taylor at Imagination Soup has a list of picture book recommendations about friendship.
Are you looking for new friendship stories to add to your reading time? These books will be wonderful additions to your read-aloud time in preschool, elementary school, or at home.
Read more
Dependence is an Opportunity
Ashley Anthony writes at Risen Motherhood about learning dependence.
On a recent family trip, our hotel had an indoor pool. My two little ones loved playing in the water at first, but my son quickly grew bored and preferred walking around the pool. I spent the rest of our pool time hunched over, walking him around, clenching his hand because he was quick to let mine go. I had to grip his hand harder and harder as he tried to pull away, believing (as stubborn one-year-olds do) that he could do it on his own. Sometimes I felt patient—sometimes impatient—but I also sensed a steadily growing suspicion that in his stubbornness, my son was more like me than I cared to admit.
Read more
Around the Warren
Stories are a Living Fire
Chris Dalton reminds us of the power of stories.
Madeleine L'Engle, the author of Wrinkle in Time, once said stories "Can be a star, a living fire to lighten the darkness, leading out into the expanding universe." They have been for me. Especially when my grandfather was diagnosed with cancer.
Read more
To Infinity…
Alisa Watson asks us how old we were when our imaginations started to wane and reminds us of films like Toy Story that help us rekindle.
Do you remember how old you were when your imagination first started to wane? When it became harder to play with toys, to see magic in the ordinary, to enter the kingdom of Make Believe?
For me — as, probably, for most — it started around the time I was twelve years old. I remember one specific evening when my younger sister asked if I wanted to play with her, and I was surprised (and even a tiny bit heartbroken) to realize that my answer was no.
Read more
Something to Do with Your Kids
Words. They're one of my favorite things. If you're word people (which I'm guessing a good number of you are), here are some great word games to help boost brain power for the whole family from Erica at What Do We Do All Day.

Something to Watch
You remember walking around on the couches pretending the floor was lava? What if it really was?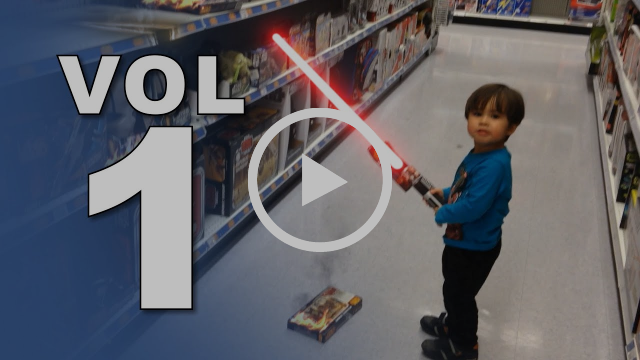 Thanks for reading. We're on your side.
-The Story Warren Team

Latest posts by Carolyn Clare Givens
(see all)