We have a lot of picture books to choose from, so when a child of mine insists on the same picture book two days in a row, I take notice. Not that I hadn't already noticed Scott James's new book God Cares for Me: Helping Children Trust God When They're Sick. My husband is a pediatrician, so I had ordered a couple of copies as a resource for his office. I just hadn't expected it to connect so strongly with my some of my own children.
You might assume from the title that God Cares for Me is a simple book, that it probably just tells kids, "trust God when you are sick" without offering much else. And while it does tell kids to trust God, it doesn't just do that. Author Scott James's day job is as an infectious disease pediatrician, and he offers a well-rounded approach to acknowledging fear, trusting God, and leaning in to caring for others.
But first of all, this book is a story. Lucas wakes up feeling so sick his words come out like a croak. Dad takes him to see Dr. Jenn who runs some tests. Lucas is scared, but throughout, Dad and Dr. Jenn remind Lucas that God is taking care of him.
But where this book really caught my attention was the shift in focus to caring for others. Dr. Jenn gives Lucas a list of ways he can help care for other people while he is sick by not spreading germs. While it's hard for Lucas to think about not playing with his friends or getting to hug his grandparents while he is sick, it leads to a great conversation with his dad about who is his neighbor in the Biblical sense. Who is Lucas responsible to care for?
When we're sick, especially as kids, our tendency is to turn all of our focus inward. Even when we're not sick, it's easy to focus primarily on ourselves. But I love how James turns the focus back outward. Trust God to care for you and then care for your neighbor by not spreading your sickness.
That's not to say this book doesn't acknowledge the real fear and anxiety kids (and adults) can feel when they are sick. I have certain children who are particularly sensitive to anyone around them being ill. And I think this book, with its focus on acknowledging fear but turning attention away from ourselves toward God's care for us and the ways we can care for others, is especially powerful.
Especially in times like these where much of our focus has been on the pandemic, God Cares for Me is a book that can help recenter our family conversations. And that kind of reminder is as valuable to us as to our kids.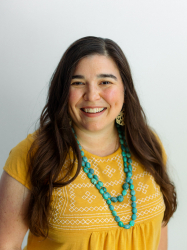 Latest posts by Carolyn Leiloglou
(see all)