EDITOR'S NOTE: Carolyn's reflection on summertime from back in 2016 seems like a good place to return during this strange summer of 2020.
---
I remember loving summer as a child, despite the intense Texas heat. It wasn't that I didn't love school. I did. But there was something magical about that long period of freedom that nourished my soul.
But summers back then were a little different. Oh, we went to VBS and maybe camp for a week, but the rest of our days were fairly free. We swam and rode bikes. We read and played Nintendo. We climbed trees and caught lizards.
And we rested.
Those summers of freedom gave our bodies, minds, and hearts a chance to dream, to imagine, and to just be.
Today, I find myself marking the swim team schedule on my calendar, thinking about summer reading programs and deciding if my kids should do art camp. None of these things are bad, but I don't want my kids to miss the gift of an unscheduled summer.
And it's not just for my kids.
I believe we parents just as much need a break from all our shuttling back and forth, from all our spinning plates (or at least from a few of them). Because our kids aren't the only ones who need a chance to dream, to imagine, and to just be.
And, hopefully, some of those unscheduled summer days can be spent together.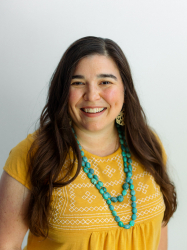 Latest posts by Carolyn Leiloglou
(see all)