Anyone else hankering for a good laugh? Let me see those hands.
You know you are – a great, big belly-laugh that is uncontrollable and uncontainable. Laughter has been a commodity that is hard to come by this past year. So many events of 2020 were heavy and difficult to understand, especially for our children. With families spending extra time together, our children have had a front-row seat for our anxiety and frustration. I know mine have.
We might be crammed into smaller spaces. We are probably dealing with new learning or work conditions. We are definitely adjusting to new online platforms (Hello, Zoom!). We have not been able to see friends and family as frequently…maybe not at all.
Disease and death have loomed close. Uncertainty and fear have been uninvited guests.
Into the darkness of this past year, our Heavenly Father shines the light of laughter and joy.
"What?" You say, "How could we possibly laugh during these dark times?"
Ah, but I am not talking about the false chuckles of resignation, but the deep joy that comes from knowing whose we are, Who Jesus is, and the end of the Great Big Story. A laughter linked to hope and love. I just looked it up – by one estimate, the word "rejoice" is used approximately 218 times in the Bible. In the midst of all the sorrow and suffering endured by God's people through the ages, He calls us to again and again "REJOICE"!
Rejoice in the Lord always. I will say it again: Rejoice!"

— Philippians 4:4
Weeping may stay for the night, but rejoicing comes in the morning."

— Psalm 30:5
A cheerful heart is good medicine…"

— Proverbs 17:22
But it is impossible to conjure up happiness.
So…I would like to share some of my family's favorite laugh-out-loud books and poems – in order to share the gift of laughter. From our family to yours. It is my prayer that your family will snuggle and laugh together, and so be brought closer to the One Who laughs and cries with us.
Llama Destroys the World by Jonathan Stutzman, illustrated by Heather Fox – this picture book contains a llama, too much cake, a black hole, and the end of the world. It is ridiculous and sure to provoke giggles from all ages. (Do be aware that the word "butt" is used.)
I'm Just No Good at Rhyming by Chris Harris, illustrated by Lane Smith – a book of nonsense poems = GENIUS! We found ourselves doubled over with laughter. This collection is full of cleverness and creativity.
Toys Go Out by Emily Jenkins – with main characters named Stingray, Lumphy, and Plastic, how can you go wrong? Even my older children couldn't wait to hear their next adventure. And wait till you meet Tuck-Tuck.
The Vanderbeekers of 141st Street by Karina Yan Glaser – not only is this story full of laugh-out-loud moments, but it also falls into Taryn Frazier's "family-positive" category. The redemption narrative blazes brightly in this beautiful book, featuring a big family who loves their neighbors well.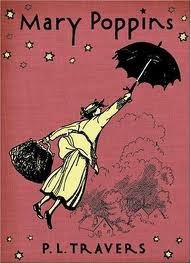 One of my favorite books, Mary Poppins by P.L. Travers, features the hilarious chapter where the title character introduces her wards to her Uncle Albert, who floats due to an excess of "laughing gas." And Walt Disney kept the charming scene, which has caused spasms of laughter in children for generations (even children who cannot "get" the jokes). Because we all "love to laugh." Laughter lightens our loads, so the imagery of floating higher while laughing is quite appropriate.
I hope that the God of all Comfort uses these stories to bring smiles to your faces and a spark of imagination to your minds. And if you look very closely in the books listed above, you will see echoes of that true Great Story. The one that brings great joy that is for all people. Because true laughter and joy cannot be separated from the Good News – they go hand in hand.
---
Featured image by jcomp
Latest posts by Heather Morris
(see all)