Researching the collection that follows has renewed my awareness of the inescapable, tragic history of slavery in America. Conceiving of our country as it might have been apart from the scourge of slavery is enticing; possibly even redemptive, if the exercise edges us toward that vision. But deepening our knowledge of the actual past holds even more potential for understanding the present and thus moving toward a better future.
This undertaking has also reminded me that the history of African Americans is more than the history of slavery. It is replete with individuals, families, and communities that have overcome injustice and other monumental obstacles to produce beauty, exhibit love, promote knowledge, and sustain faith. Their remarkable and enduring feats of courage, scholasticism, craftsmanship, and physical prowess enrich us all.
The list of books below represents my attempt at a chronological overview of the past two hundred and fifty years through an assortment of newer and older picture book titles. Some highlight individuals of exceptional achievement, others "ordinary" citizens who demonstrated vision, compassion, and determination.
18th Century
Phillis's Big Test, Catherine Clinton, ill. Sean Qualls (Houghton Mifflin, 2008, 4–7 yrs., 32 pp.) As a child, Phillis Wheatley was abducted from Africa and purchased by a white family in Boston. Observing her aptitude, the Wheatleys saw to Phillis's education. She soon demonstrated a gift for poetry, but when a volume of her poems was submitted for publication, the publisher could not believe Phillis had produced them herself. In Phillis's Big Test the young girl reviews her own history as she makes her way through the streets of Boston to a gathering of eighteen men who will rule on whether the verses originated with her. Clinton doesn't pass over the irony of Phillis's obligation to defend her own work. An end note relates more of Wheatley's life; I only wish some of her poems had been included.
Amistad Rising: A Story of Freedom, by Veronica Chambers, ill. Paul Lee. (Harcourt Brace, 1993, 6–9 yrs., 40 pp.) Perhaps because the 1997 movie "Amistad" moved me so profoundly, I found Amistad Rising among the most gripping titles on this list. Chambers rivets our attention on one of the slaves, Cinqué, who mutinied on the eponymous slave ship. Lee's illustrations capture the drama of the multiple trials of the mutineers and their eventual return to Africa. The book is out of print but available used from multiple online sellers.
Early-19th Century to Civil War
Box: Henry Brown Mails Himself to Freedom, by Carole Boston Weatherford, ill. Michele Wood (Candlewick, 2020, 10–15 yrs., 56 pp.) Weatherford's innovative text appears in six-line stanzas relayed in the first person. The resulting immersive experience effectively conveys, by turns, Brown's fear, heartbreak, faith, hopelessness, desperation, and courage. Wood's lively illustrations aptly accompany the narrative of Brown's life, inspired by his own autobiography.
Frederick's Journey: The Life of Frederick Douglass, by Doreen Rappaport, ill. London Ladd(Jump at the Sun, 2015, 6–8 yrs., 48 pp.) This narrative of Douglass's life provides a glimpse of some of the harsh realities of slavery. Vivid illustrations and direct quotes from Douglass's autobiography impart immediacy to the account. His vision and dedication to the cause of freedom and abolition inspire respect and admiration.
Two Friends: Susan B. Anthony and Frederick Douglass, by Dean Robbins, ills. Sean Qualls and Selina Alko(Orchard Books, 2016, 4–5 yrs. 32 pp.)This charming depiction of the friendship between two reformers makes it an excellent choice for young listeners. Without delving into the troubling truths of slavery, it captures the abolitionary passion of the freedman Douglas and the women's suffrage leader Anthony.
Moses: When Harriet Tubman Let Her People to Freedom, by Carole Boston Weatherford, ill. Kadir Nelson (Jump at the Sun, 2006, 4–8 years, 48 pp.) This may be my overall favorite for illustrations, design, presentation, and composition. Weatherford portrays Tubman's life through a series of flashbacks, visions, and memories in the course of her flight from slavery. Tubman's ongoing dialogue with God reveals a singular intimacy with him. Nelson's striking paintings embody the grace, passion, mystery, and triumph of Tubman's life and are augmented by the aesthetic design of the text.
Hold the Flag High, by Catherine Clinton, ill. Shane W. Evans (Katherine Tegen Books, 2005, 4–8 yrs., 32 pp.) The July 1863 battle at Fort Wagner was one of the first battles to be joined by African-American troops. Hold the Flag High tells of the undaunted courage and service shown by the wounded Sergeant William Carney. He later became the first African American to receive the Congressional Medal of Honor.
Ben and the Emancipation Proclamation, by Pat Sherman, ill. Floyd Cooper (Eerdmans, 2010, 32 pp., 8–12 yrs.) Sherman has captured meaningful moments from the sparsely documented life of Benjamin C. Holmes to convey the hope offered by the Emancipation Proclamation. Forbidden the right to literacy, Holmes surreptitiously taught himself to read as a tailor's apprentice. While still a teen, he was awaiting sale in a Charleston prison when someone slipped in a newspaper. Holmes read aloud to his companions the reprinted text of Lincoln's historic proclamation. According to the author's end note, Holmes went on to earn a university education, tour the U.S. and Europe with Fisk University's Jubilee Singers, and teach in a rural Tennessee school.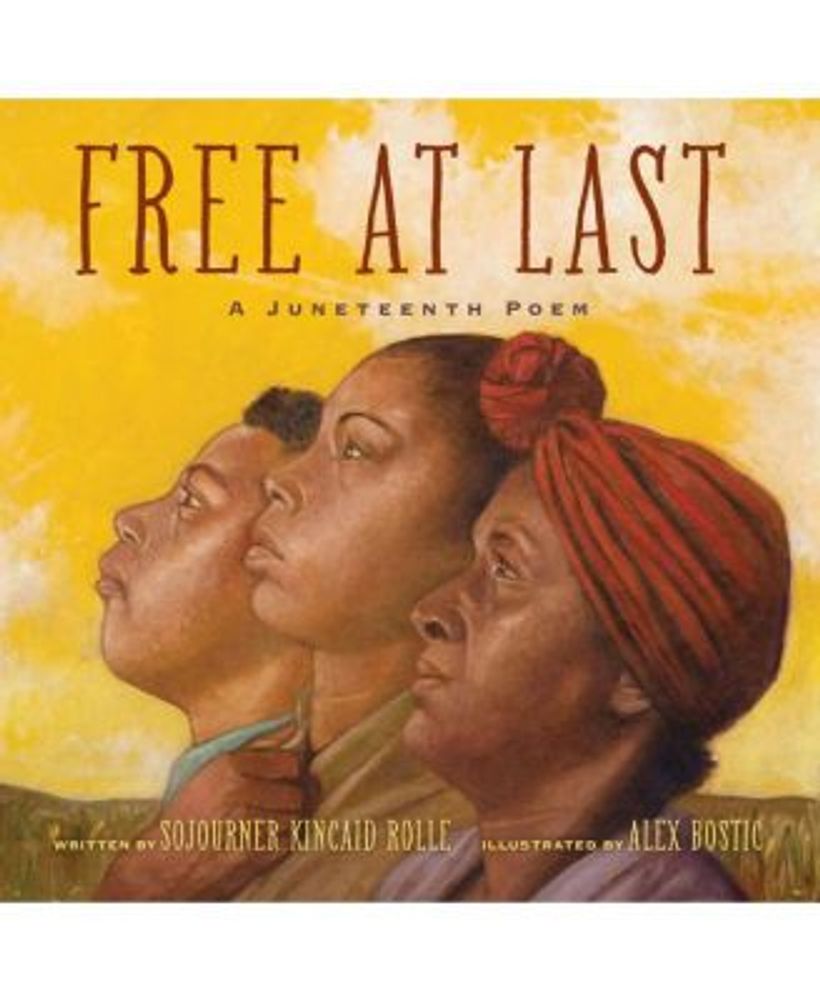 Free at Last: A Juneteenth Poem, by Sojourner Kincaid Rolle, ill. Alex Bostic (Union Square Kids, 2022, 4–8 yrs., 32 pp.) Rolle's poem, which constitutes the text of the book, was composed in 2004 for publication in an online magazine. Commemorating the Emancipation Proclamation and its aftermath, the poem has been reprinted and reused countless times since. Bostic's rich paintings bring to life 19th-century rural scenes. Rolle's end note provides a brief history of this relatively new holiday.
Late 19th–Early 20th Century
Sweet Dreams, Sara, by Vivan Kirkfield, ill. Chris Ewald (Creston Books, 2019, 7–14 yrs., 36 pp.) In 1885 Sarah Goode became the first African-American woman to receive a patent. Kirkfield and Ewald portray a determined and resourceful carpenter who responded to the needs of her customers with an innovative design for a folding bed. Back matter includes a timeline of African-American women patent holders through 2006.
The Secret Garden of George Washington Carver, by Gene Barretta, ill. Frank Morrison (Katherine Tegen, 2020, 4–8 yrs., 40 pp.) From childhood, George Washington Carver loved plants. Barretta's informative text and Morrison's charming illustrations show how this gifted botanist shared his passion and knowledge to benefit individuals, institutions, and the nation. A delightful book, especially for those who share Carver's affection for flowers.
Sprouting Wings, by Louisa Jaggar and Shari Becker, ill. Floyd Cooper (Crown Books, 2021, 7–10 yrs., 48 pp.)Jaggar'snarrative does more than relate the determination that enabled James Hermann Banning to fulfill his childhood dream of becoming a pilot. It describes his remarkable three-week journey from LA to New York, accompanied by mechanic Thomas Cox Allen. Churches, mechanic schools, newspaper editors, and townspeople hailed and helped the travelers, providing food, putting gas in the plane, performing repairs, and inscribing their names on the wings. The 1932 achievement made Banning the first African-American pilot to cross the U.S.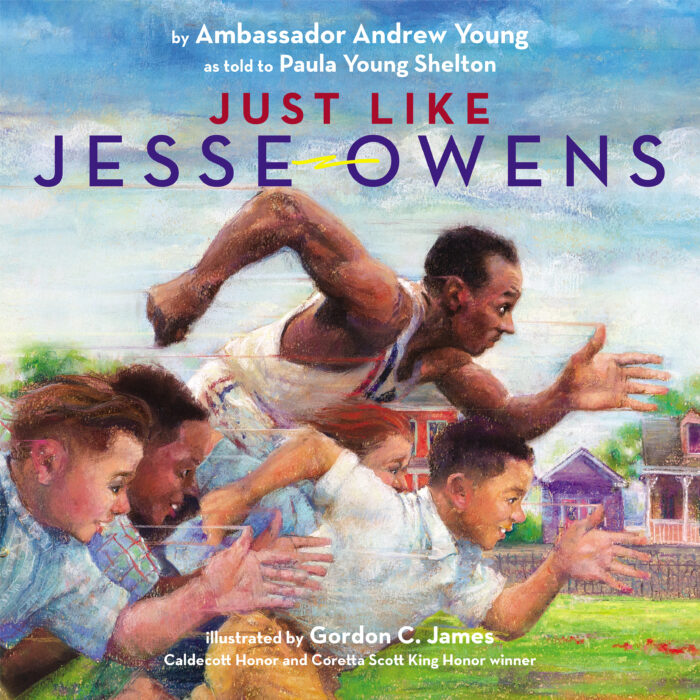 Just Like Jesse Owens, by Ambassador Andrew Young and Paula Young Shelton, ill. Gordon C. James (Scholastic, 2022, 6–8 yrs., 40 pp.) Father-daughter authors Young and Shelton relate an episode from Young's boyhood. In segregated 1930s New Orleans, a newsreel of Olympic runner Jesse Owens spurred Young on to discipline and hard work. The result, among other accomplishments, was his appointment as first African-American ambassador to the U.N. I, too, was inspired by Owens's unprecedented and as yet unequaled feat: In 1935 he broke three world records and tied another in under an hour.
Civil Rights
Martin's Big Words, by Doreen Rappaport, ill. Bryan Collier(Jump at the Sun Books, 2001, 5–8 yrs., 40 pp.). This accessible book for younger readers highlights King's early affinity for vocabulary and the role of words in his life's work. The collage-style illustrations capture the setting and ethos of Martin's times. Pull quotes draw attention to Martin's actual words.
Let the Children March, by Monica Clark-Robinson,ill. Frank Morrison (Houghton Mifflin Harcourt, 2018, 5–9 yrs., 40 pp.) In May of 1963, children and teens filled the streets of Birmingham, Alabama, to protest segregation. Thousands were imprisoned, but Martin Luther King, Jr., later cited the demonstration as a turning point in the Civil Rights movement. Clark-Robinson conveys the protestors' courage, trepidation, and from the perspective of a fictional participant.
I Am Rosa Parks, by Brad Meltzer, ill. Christopher Eliopoulos (Rocky Pond, 2014, 4–7 yrs., 40 pp.) This simple book with its cartoon-style illustrations is informed by Parks's autobiography. It aims for authentic portrayal of an ordinary citizen whose commitment to justice moved her to be a catalyst for change. The first-person narrative summarizes Parks's life and encourages readers to stand for what is right—together.
I Am Ruby Bridges, by Ruby Bridges, ill. Nikkolas Smith (Orchard Books, 2022, 4–8 yrs., 48 pp.) I love how this book encapsulates Bridges' experiences from her own six-year-old perspective. She manifests excitement, trepidation, naivete, and optimism, venturing into new territory without realizing the significance for all those involved. Smith's creative illustrations contribute to the sense of wonder and possibility.
Arts & Sciences
Hidden Figures, by Margot Lee Shetterly, ill. Laura Freeman (HarperCollins, 2018, 6–10 yrs., 40 pp.) Like the movie of the same name, this picture book tells of four African-American women who overcame barriers posed by race and gender to excel in the field of aeronautics. Where movie makers crafted a streamlined plot about these gifted mathematicians, the book treats each woman and her accomplishments individually. Though this rendition is less dramatic, the women's hard work and determination inspire on their own account. Back matter includes a glossary, timeline, and brief bios. Shetterly is also the author of the book for adults on which the movie is based.
Ready to Fly: How Sylvia Townsend Became the Bookmobile Ballerina, by Lea Lyon and A. LaFaye, ill. Jessica Gibson (Harper, 2020, 4–8 yrs., 40 pp.) Being the mother of a ballerina myself, as well as a heavy library user with a fascination for bookmobiles, this title immediately drew my attention. Townsend, improbably, taught herself to dance from books the librarian brought to her 1950s California community. Soon more children were coming to the bookmobile—to get dancing lessons from Townsend. Despite racial and economic obstacles, she finally achieved her dreams and, in 1974, founded her own ballet school.
Mae Among the Stars, by Roda Ahmed, ill. Stasia Burrington (Harper, 2018, 3–5 yrs., 40 pp.) Straightforward text and charming illustrations make this book well-suited to younger listeners and readers. It introduces Mae Jemison, whose supportive parents encouraged her to pursue her dreams. She did, and in 1987 she became first African-American female astronaut. Her parents' promise that "if you dream it, believe in it, and work hard for it, anything is possible" proved true.
On Her Wings: The Story of Toni Morrison, by Jerdine Nolen, ill. James E. Ransome(Paula Wiseman, 2022, 4–8 yrs., 48 pp.) Toni Morrison was born into a family of musicians and storytellers who valued education. Their 1930s Ohio town was too impoverished and small to segregate the schools. Nolen describes the hard work, vision, and love of heritage that led to Morrison's becoming the first African-American woman to receive the Nobel Prize for literature. Ransome's colorful and imaginative illustrations ably complement the life of this accomplished author.
Latest posts by A.C.S. Bird
(see all)