For two years my home was on ten secluded acres in the mountains of Arkansas. My family's time there was brim full of adventures, and like any true adventure, they were much more miserable than stories would have you believe. Thankfully, there was also a pocketful of fantastic days and quite a few lovely, humdrum days in between. Humdrum days were my favorite, because those were the days when I finally slowed down enough to appreciate the miracles surrounding me.
At our home in Arkansas, one of the best places to discover miracles was through the kitchen windows. There were four windows, each reaching from floor to ceiling, and in the front yard, about fifteen feet away from the windows, a massive bird feeder perched on top of a 4×4 post planted deep in the ground. The whole thing, including its 238 miniature wooden shingles, was handmade by Pop, my husband's grandfather.
Our family spent hours sitting at the kitchen table, staring out those windows and watching the birds at Pop's feeder and each of us found deep satisfaction in getting to know the many birds and animals who frequented it.
So you can imagine with what enthusiasm we looked forward to reading James Witmer's children's book, A Year in the Big Old Garden
, which is a collection of short stories featuring the backyard wildlife who pass their lives in and around the Big Old Garden behind the Big Old House.
A printed edition was made available for the first time shortly before this past Christmas and we snagged one to give to our kids Christmas Eve. Full of whimsical stories reminiscent of Beatrix Potter and Thornton Burgess, yet devoid of mimicry, ​A Year in the Big Old Garden ​ did not disappoint.
The collection is brought to life by illustrator, Joe Sutphin, whose detailed sketches are full of life and personality. An illustration appears in every chapter. The beautiful cover illustrations, which also appear inside the book at the start of each new season, were done by Melissa Ellen Fink and add a heartwarming backdrop for the stories.
The first time I cracked open ​A Year in the Big Old Garden​ , my four-year old was curled up in my lap and my other two children were playing Legos on the floor, but within the space of a few sentences, the Legos were abandoned and my two older kids had crowded around my elbows to listen more closely.
The masterfully told tales of woodland creatures have an old fashioned heart, and are presented in a simple, sincere style. Each story is carefully crafted and made lovely to read aloud through poetic repetition. Witmer's writing hospitably draws his listeners in, and quietly shows them kindness and grace along the way.
Having spent hours studying birds and small animals through my own kitchen window, I was pleasantly surprised by Witmer's ability to seamlessly weave in many accurate details of animal behavior and personality. He accomplishes this so well that I came away almost believing the stories were true! Similar episodes have played out a dozen times in my own front yard but somehow I never took the time to notice all that I saw.
And I think this is why this collection of stories is so appealing. In ​A Year in the Big Old Garden​ , Witmer gently pulls back the curtain on the mundane, and shows us miracles! He invites readers to open their eyes and delight in the community of creation happening all around and suddenly I find myself looking at the cardinals at the feeder in a completely new way!
Each time I finish reading one of Witmer's stories to my children, they all take a deep breath and their glowing faces seem to sigh, "All is well! All is well! All is well."
My heart sighs contentedly along with them as I close the book gratefully reminded that good things exist in this broken world. The Big Old Garden has invited us to bask in a deeper magic than I realized.
In ​A Year in the Big Old Garden​, James Witmer has accomplished the difficult task of writing a children's book that is appealing to children and adults alike–and he has done it in a beautiful, timeless way.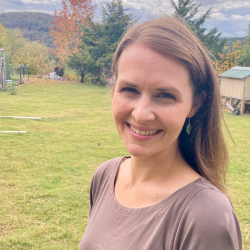 Latest posts by Melissa Kline
(see all)