A real-world middle-grade fantasy built around the plot of Shakespeare's A Midsummer Night's Dream? Yes please! Midsummer's Mayhem by Rajani LaRocca is a magical story about a young baker and her family.
The Story
Eleven-year-old Mimi Mackson is the youngest of four kids in an Indian-American family. Mimi wishes she were talented like her older siblings. So when Mimi finds a contest for baking–the one thing she's really good at–at the new While Away Café, she is determined to win. But as the contest heats up, things get weird, and it all seems to be related to food and, maybe, Shakespeare.
What I Loved about Midsummer's Mayhem
Shakespeare–While most middle grade readers won't be familiar with A Midsummer Night's Dream, why not get them interested in the bard? LaRocca deftly weaves in characters, themes, and quotes from the play.
Determined character–Yes, she wants to win the contest, but that's not the only thing Mimi has her heart set on. More than anything, she wants to be a good friend, sister, and daughter.
What Parents Should Know
Sibling rivalry–What would a Shakespeare play be without misunderstandings? Many of them have to do with Mimi's siblings who bicker quite a bit and unwittingly act out the love triangle from the play.
Personality shift–Mimi's dad undergoes a mysterious personality shift. (I believe he is meant to represent the character Bottom from the play.) This may be concerning to sensitive kids. One character suggests Mimi's dad may be planning to leave his family, which is not true.
Competitiveness–Some parents have mentioned not wanting their child's books to focus on competitiveness. This makes a lot of sense when multiple reality shows focus on contests to be the best, even for kids. While this book does have competitiveness, that's not where it ends. Mimi wants to win the contest, but she realizes that baking is a gift, and, in the end, she uses it well.
Midsummer's Mayhem was lots of fun. Most middle-grade readers won't be familiar with A Midsummer Night's Dream, but that won't keep them from following the plot and will add to the mystery. I think young readers will be rooting for Mimi and maybe wanting to try out a few of her unique desserts. Three recipes are included in the back of the book. Bon appetit!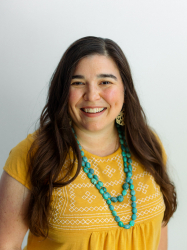 Latest posts by Carolyn Leiloglou
(see all)