When I cozied into a chair and propped a cup of tea onto my knee to read Isabel Chenot's West of Moonlight, East of Dawn, I already knew the story would stir me to wonder and sorrow. I've relished sharing multiple renditions of the old folktale with my kids, from "East of the Sun, West of the Moon" in an anthology of Nordic tales, to the tragedy of Eros and Psyche in Greek mythology. All such retellings recount the tragedy of a young peasant girl caught up in divine intervention, and her heroic efforts to cross oceans and time itself for the sake of an abiding love. After a recent reading of C.S. Lewis' take on the story, Till We Have Faces, inspired questions of providence and divine mercy, I was eager to journey with the heroine again, to weep with her, to yearn with her, and to feel the sting of the bracing North Wind along with her as it lashed at her face.
I anticipated the wonder and the sorrow. I was unprepared, however, for the arresting beauty and aching poignancy of Chenot's retelling. While other authors retell the story, Chenot weaves it like a shimmering cloak, wrapping you in its folds, immersing you in threads that glitter as if dusted with silver. Her prose is poetic and exquisite, her imagery vibrant, and her pacing swells and unfurls like waves on a gentle sea. To complement her lush retelling, her illustrations are soft and haunting, as if viewed through gossamer or a sheen of smoke.
Even more profound than her artistry, is Chenot's emphasis on gospel themes in the story. The folktale has roots in paganism, but within that dark tangle Chenot discerns glimmers of gospel light, and she coaxes these embers to glow. In previous versions I've read, the protagonist saves the enchanted prince by washing his soiled garment clean; in Chenot's version, in a twist that drew tears to my eyes, the prince — the Heir of Light — sheds his own blood to wash clean blemishes that the protagonist, herself, inflicted. It's an artfully executed revision that shifts the emphasis toward our hope in Christ, and yet Chenot accomplishes this shift seamlessly, without diverging from the tone of the traditional story. Her approach echoes that of Tolkien, who believed all great stories reflect the one, true Story, and that God's truth permeates the works of those made in his image.
Although resembling a picture book at first glance, West of Moonlight is more akin to a novella or a chapter book. It would make an excellent read-aloud with younger kids over a period of days or weeks, and there are ample riches for older children, especially with frequent pauses to reflect upon the luminescent, poetic writing. (My son is studying Beowulf, and he delighted at how West of Moonlight similarly lilts like music.) Above all, the Christian themes of sacrifice and love, all pointing to our Savior, are worth dwelling upon with kids over a prolonged period — over and over again, daily, for generations to come. As we long for our home beyond the sun and moon, when all things will be made new, I'm grateful for writers like Isabel Chenot, and the stories of gospel hope they so lovingly craft for our kids.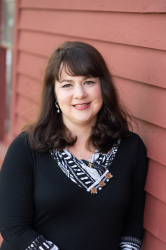 Latest posts by Kathryn Butler
(see all)