The Christmas story is amazing, isn't it? God wrapped himself in flesh and emerged into the world as a helpless baby. He was totally dependent, yet with a mission to save the world He created.
But it can be hard to make the story feel fresh for a kid who's heard it five bazillion times. How can we? One way is to reframe it as a story of anticipation. That's exactly Scott James does in his new picture book, The Littlest Watchman: Watching and Waiting for the Very First Christmas
.
Benjamin is a watchman, one of the people appointed to watch and wait for God's promised King. The King will be a new shoot from the stump of Jesse. And so, Benjamin must sit and watch the stump for signs that the King has come.
But Benjamin finds it difficult to watch and wait. Other jobs seem more interesting. Some kids make fun of him. It seems like the promised King might never come.
Until…
Benjamin sees the angel appear to the shepherds. He looks back to the stump to discover a new shoot has sprouted after all. When shouting the good news through the village, he is invited into the stable to meet the King.
Just like in this story, the people of Israel were called to be "watchmen" of a sort. They were to anticipate the coming King from the line of David.
I love how The Littlest Watchman takes abstract ideas and gives them a physical component. The branch from the stump of Jesse becomes a physical branch and stump. The faithful of Israel awaiting the Messiah become the Watchmen. Children can latch onto these ideas made flesh. They can understand that watching a stump with nothing happening would be boring and discouraging.
Taking it one step further, parents can easily draw children to the idea that, like Benjamin, we are still watchmen, waiting for Jesus's return.
The Littlest Watchman
will help children anticipate Christ's birth by shifting their perspective. Instead of something that happened ages ago, they will experience the long wait for God's promise to be fulfilled through the eyes of Benjamin and the excitement when the King finally arrives.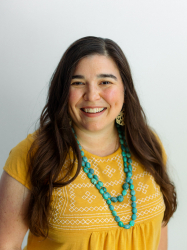 Latest posts by Carolyn Leiloglou
(see all)