My kids' rock-climbing instructor gaped, incredulous. Just weeks earlier, my daughter had screamed with terror halfway up the kids' bouldering wall. Now she clung with a single hand to the topmost hold of an autobelay route, grinning ear to ear. Along with her brother, she belted out a chant unknown to anyone else in the climbing gym, but very familiar to anyone who's shared our couch:
My place beside you! My blood for yours! Till the Green Ember rises, or the end of the world!
As their rallying cry echoed throughout the gym, the instructor wondered what had inspired their sudden zeal. To our family, it was no mystery. My kids had walked with Picket and Heather, and had seen them overcome shattering odds. They had seen the prince return and the land restored to something good, true, and lovely. And in the process of that journey, the courageous hearts of these make-believe rabbits had shaped and steeled their own.
The best characters in literature do this. We hurry through our days eager to join Bilbo and Hermione, Lucy Pevensie and Chester cricket in one more moment, to adventure with them for just a few more pages. Long after we've reached "The End" their imprints linger, leaving us different people than we were when we first cracked the spine. They instruct us in bravery, wisdom, and fortitude. They remind us that the even smallest matchstick can shine through the deepest dark.
Characters shape us, and the very best characters mold our hearts to resemble His. Although I wasn't raised in a Christian household, I can distinctly remember how my heart thrilled when I read about Eustace's misadventures on the dragon island in The Voyage of the Dawn Treader. I had no vocabulary for sin or redemption, but Eustace's journey struck a familiar chord deep within, the resonance of which I would not understand until decades later. As Aslan stripped away Eustace's dragon skin I had no understanding of the gospel, and yet I knew I was reading about something hallowed. Eustace's journey was my journey. It was the journey of all of us who have found ourselves trapped in our sin nature, scratching away at our scales in vain. His story reflected the good news we all need: that One greater than us has achieved what we cannot by our own power. That One who loves us with a perfect love will make all things new.
The most enduring characters in fiction so enthrall us, because they reflect what is true, honorable, and lovely (Phil. 4:8), and point our minds to Christ. Anne of Green Gables sees the Creator's artistry and breathlessly marvels. Samwise Gamgee's loyalty hearkens back to Tolkien's fellow soldiers in World War I, and reminds us of the One who carries us when our own power fails. We find perseverance and altruism in Janner Wingfeather, and repentance and humility in The Wilderking Trilogy's Aidan Errolson.
Even the flaws of well-written protagonists can instruct, often in stark brushstrokes that linger in the mind. During a recent reading of King Arthur, my 9-year old and I reflected on Arthur's recklessness in his early years, and how he matured over time beneath Merlin's mentorship. His early escapades resembled tomfoolery; yet Providence had set him apart, and by God's grace Arthur listened to Merlin's counsel, learned, and flourished. The great king and hope of the realm also struggled with his own fallenness, and needed grace as much as we do. And by God's mercy, according to legend the lord of Camelot received it in abundance. What joy, and what encouragement for our kids, to remind them that they receive the same grace as legendary kings?
My kids have adventured through many books since reading The Green Ember series, and many more characters have woven themselves into their personal mythology. Characters appear in the forms of stuffed animals, and their names suddenly burst into playground narratives. Yet Picket and Heather have left their marks, along with Anne, Heidi, Harry, Janner and Frodo. Each character leaves an imprint. Each story shapes a child's heart.
And in the best cases, these characters strum unseen chords, tuning their hearts to the One whose grace abounds, the One whose own character reflects what is true, honorable, and lovely.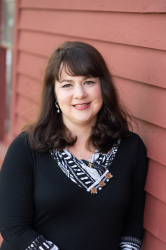 Latest posts by Kathryn Butler
(see all)