Evening comes on quickly in Oxford in November. The dark creeps in around 4 in the afternoon.
When David and I closed out our afternoons there, we sought out a little respite in a place pointed out to us by our friend Sarah: Turl Street Kitchen. Turl Street is one of the cross streets that runs between Broad Street and the High Street. It is rather narrow and always full of bicycle riders.
The restaurant was tucked in on the right side of the road as we left Broad Street and Blackwells' bookstore. It was the kind of place you'd imagine in Oxford: small-paned windows, rough wooden pub tables, and a staircase that marched up the middle of the building. In the back was the coffee bar: a lighter space with a few high-top tables scattered about.
As dusk came on, we sought out those most modern of necessities: electrical outlets and free wi-fi. My eagerness to guide us around the town with an online walking tour, along with my incessant picture-taking, had mercilessly killed my phone. While "going dark" in Oxford was a tempting proposition, responsibilities back home (by the names of our five children) demanded that we keep the communication lines open. So we ordered two lattes and a slice of cake, and slumped down with our bags at a corner table by an outlet.
We took out a map, as tourists are inclined to do, and discussed our next day's plans. As we chatted, a server walked about with a lighter and lit the white thick pillar candles on each table. There were no candle holders; not even a plate underneath them. The candles sat down unapologetically on each wooden table, where the burn marks remembered them. There was no fuss about anything.
Despite the small effort, the room took an enchanted glow because of those candles. The little bit of effort taken turned the space into a cozy residence, perfect for thinking noble thoughts and having profound conversation.
When I returned home from the UK, one of the first errands I took included a stop for white pillar candles. I wanted to recapture that moment and make it exist in my own home. Forget the fact that I didn't have ancient walls, magical libraries, boys' choirs, or Evensong…I could have the white candles from Turl Street Kitchen.
What is it about us that thinks we can recapture an atmosphere? What makes an atmosphere "just so" in a fashion that can, realistically, never be recaptured? The air and the mood, in that place have taken up residence in my heart.
What is a place that you have ingrained in your heart? What made it that way?
I want my home to be a place that is ingrained in my children's hearts. Realistically, this is unavoidable. It will be part of them. I pray that those positive pieces — the tray with our initial, the smell of bread, and yes, the white pillar candles on the Oxford tea towel on the table — will stick with them more than the weak, broken pieces.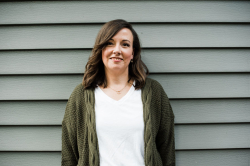 Latest posts by Kelly Keller
(see all)