I live in the Southern United States, where we see a few inches of snow each winter if we're lucky. Having grown up in Massachusetts, I do miss the blanket of white so bright it hurts your eyes. Adults love to complain about the inconvenience caused by a big snowfall, but those first few snowflakes are filled with wonder for us all. 
When you hear the word "snowstorm," it sounds as though it should be loud. But there is no silence as lovely as the quiet of a snowstorm. The poet featured below, Elinor Wylie (1885–1928), talks about walking in the snow as though she is wearing "velvet shoes." Enjoy it — and if there is snow where you live, please go enjoy it on my behalf. — Kelly
Let us walk in the white snow
In a soundless space;
With footsteps quiet and slow,
At a tranquil pace,
Under veils of white lace.
I shall go shod in silk,
And you in wool,
White as a white cow's milk,
More beautiful
Than the breast of a gull.
We shall walk through the still town
In a windless peace;
We shall step upon white down,
Upon silver fleece,
Upon softer than these.
We shall walk in velvet shoes:
Wherever we go
Silence will fall like dews
On white silence below.
We shall walk in the snow.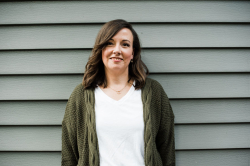 Latest posts by Kelly Keller
(see all)