In a writing class last fall, my teacher asked the class to recall a smell from our past. We then followed the memory wherever it took us. I was amazed at how vividly things came back to us. We were made with such a powerful sense of smell, inevitably tied to thought and memory.
What is your favorite smell? What smell do you hate? And why don't more poets write about smell? That's what our poet, Christopher Morley, wants to know.
NEW WORD ALERT: Do you know what "gramarye" means? We had to look it up. It's a fancy old-fashioned term for "magic" or "enchantment." — Kelly
---
Smells
by Christopher Morley
Why is it that the poet tells
so little of the sense of smell?
These are the odors I love well:
The smell of coffee freshly ground;
Or rich plum pudding, holly crowned;
Or onions fried and deeply browned.
The fragrance of a fumy pipe;
The smell of apples, newly ripe;
And printer's ink on leaden type.
Woods by moonlight in September
Breathe most sweet, and I remember
Many a smoky camp-fire ember.
Camphor, turpentine, and tea,
The balsam of a Christmas tree,
These are whiffs of gramarye…
A ship smells best of all to me!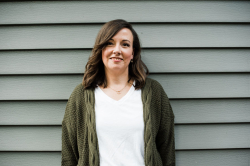 Latest posts by Kelly Keller
(see all)