The story of Genesis opens with the protagonist (God) overflowing with love and creativity. Then the villain, in a devastating opening move, convinces the story's love interest (mankind) that the protagonist does not truly love her, and that she – not he – should be the center of the story.
Now, as members of that gullible race, we and our children struggle to remember our proper and beloved place in the story. In fact, it is a precious thing to glimpse any story larger than our own.
My family recently enjoyed a delicious reminder in the form of a recipe. This recipe is for a traditional potato-stuffed pasta called pierogies. My wife's great-grandmother brought it with her from Austria, carried in her mind as a sixteen-year-old girl who rode sitting in the bottom of an ocean liner.
Pierogies are a lot of work, so they are a family project. And in the mashing, mixing, rolling, cutting, stuffing, and boiling, a sense of belonging to a greater story is inevitable, along with conversations about great-grandma and even great-great grandma.
The best part? I started pierogie day in a state of sulks because I was out of ideas for nurturing our children's imaginations. (Beyond reading more stories – not that there's anything wrong with that.) It wasn't until I got caught up in the project that I saw beyond the flour everywhere and realized what was happening.
So I'm not suggesting we need to invent special historical projects. Instead, I want to be more present in whatever we're doing, and maybe catch more of these big-picture moments as they happen. Then I'll just enjoy the heck out of them, because we're not teaching a lesson, we're building a belief about how the world works. If the joy is there, the kids will catch on. And maybe I will, too.
---
Photo by Julie Witmer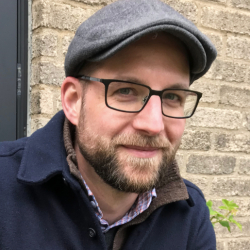 Latest posts by James D. Witmer
(see all)