When my son first discovered Johanna Spyri's Heidi nonchalantly tucked into our stack of daily reading books, he revolted. The book jacket, with the story's namesake cartwheeling across a meadow high in the Alps, violated his 9-year-old principles — specifically, his tightly held adage, "thou shalt not read books featuring protagonists in pigtails." "No way," he said, chucking the book into a basket when I pressed him. "I am not listening to that!"
I stifled a laugh. I'd seen this same reaction before, when he'd decided The Secret Garden was too school-girlish for a boy on the verge of double-digit years. Eventually the story of The Secret Garden overcame his reservations, and I suspected that his protests against the girl on the Alm, too, would vanish after the first chapter. We compromised: I would remove the book jacket (the banal blue cover was much less offensive), if he would trust me and plant himself on the couch for two chapters. With a grumble, he agreed.
After one chapter he begged me to keep reading. After a hundred pages, he practically jumped out of his seat as he recognized the beating heart of the book: the parable of the Prodigal Son. As the story from Luke 15 mingled with Spyri's sparkling images of snow-glazed mountains and wind-swept trees, suddenly Heidi's pigtails no longer troubled him. Best of all, the book sparked discussions about God our Father, who welcomes the wayward home with open arms — even those of us most broken, whose sins drive us to seclusion atop mountains.
Spyri's vivid characters easily capture the hearts of young readers. As a family we leaned forward with anticipation as Alm-Uncle's heart, long hardened from the burdens of his past, softened in the face of Heidi's kindness. Heidi is innocent and compassionate, and we shared in her joy when the treasures of her mountain home thrilled her. Her exclamation about the wind in the trees reminded us of Anne (with an "e") in Anne of Green Gables, as she delighted in the Lake of Shining Waters. Heidi's sincerity is endearing, not saccharine, and in moments when her heart was breaking, ours ached as well.
Heidi's heart does, indeed, ache. She loves her grandfather and the mountains, her friend Peter and his herd of goats, and my kids shouted at the book during the chapter when her callous aunt tears her from this idyllic home for her own selfish aims. Confined to the streets of Frankfurt, Heidi searches for some glimpse of the rural landscape she loves, and her hopes slip away as she suffers mistreatment and loneliness.
But, God. Themes of providence weave throughout the novel, and even in the face of despair, Spyri offers hints of hope. After struggling to piece together words under the cold tutelage of a teacher, Heidi finds inspiration to read the Prodigal Son. When she finally, at long last, returns to her grandfather in the mountains, she shares the cherished parable with him — and after decades of isolation and bitterness, he grasps the gospel of God's forgiveness, and returns to the Lord.
Such themes of redemption course through Heidi like glittering threads. Heidi returns to her beloved home. Her hardened grandfather is reconciled to God. Clara, the lame child, finds her health restored in the brisk alpine air. Above all, we sense on every page that God is present, active, and good. We glimpse reflections of his character, and see that like the father in Heidi's favorite parable he is eager to embrace us as his own, no matter what we have done, no matter what calamities stain our past.
Such hope, and such good news, is worth delving into with our kids deeply and often. Heidi offers such riches in abundance.
(Just consider removing the book jacket first.)
---
Photo by Xavier von Erlach on Unsplash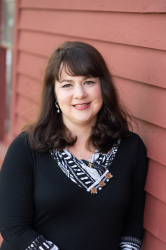 Latest posts by Kathryn Butler
(see all)