Our family recently finished reading aloud The Green Ember series by S.D. Smith (or "Bunnies Go to War," as we affectionately refer to the saga). As we journeyed through the stories, we often had lively discussions as we shared opinions, asked questions, and made predictions. But the night we turned the last few pages of this epic tale, we took the art of lively discussion to a whole new level, with a truly unexpected result.
The concluding section of the book takes place a year after a climactic battle. As the scene unfolded and we discovered who survived, who married who, and other plot tidbits, there were raucous cheers and exclamations:
"I knew it!"
"Yay!"
"No, that's not what should have happened!"
We were loud and boisterous—a bit rowdy actually. And we were outdoors.
We live on a few acres on a dead-end road on the outskirts of town. We know all of the neighbors stretched out along our little country road, but we hadn't had occasion to connect with the folks who live one road over—the ones we share backwoods with—until that night.
Unexpected Visitors
As our book reading party was winding down, the doorbell rang. Surprised, we went to see who could possibly be calling so late in the evening. A man, woman, and teenage boy sheepishly stood on our front steps. They introduced themselves as our backlot neighbors and asked if we were the ones having so much fun. I immediately began to apologize for being so loud, thinking we had been disturbing them, but, no. On the contrary, they had heard "the party" and wanted to know if they could join in!
We invited them back out to the porch and had a nice visit. At one point, the woman asked, "I just have to know what you guys were doing that was so much fun?" Their faces registered confusion when we told them that the "party" noises were coming from a family read-aloud session. As we shared a bit about The Green Ember series, things got stranger still. A four-book series you read aloud together? they asked. Like the "Lord of the Rings" but about rabbits? A tale about sacrifice, love, honor, and…bunnies? Yes, yes, and yes! It was definitely not the kind of "party" they thought they were joining.
I get a kick out of that story. I love that we can add "meet new neighbors" to the list of benefits that come from reading aloud together. But I can't help but wonder what really drew them to our "party" that night. What did they hear coming from our porch that was so irresistible?
The Gift Of The Present
As I consider our experience as a read-aloud family, I realize that I am most often struck by a sense of stillness as we read together. As the words of a good story wrap around us, we are able to leave behind the issues of today and set aside the cares of tomorrow. The words pull us firmly into the present moment, and in that, there is a holy stillness. C.S. Lewis goes so far as to say that the full experience of the present "is the point in which time touches eternity." A holy stillness indeed.
Of course, there are times when things are not so still. Sometimes one of the kids is a bit squirrely, the story has us all giggling, or, in the case of the victorious end of "Bunnies," we are just plain boisterous. But even in reading sessions where there is more movement and less stillness, there remains the prevailing sense that we are fully engaged in the story and fully present in the moment.
Could it be that in our laughing, exclamations, and cheers that night, our neighbors sensed a group of people fully present? People experiencing a taste of forever joy as we deeply enjoyed our present slice of eternity?
I don't know for sure—maybe they don't either—but there is undoubtedly something magical that happens when stories are shared together. Hearts young and old, those snuggled in close and even those listening through the woods, are drawn together as the words invite us to step into the story, sink into the moment, and enter fully into the wonder-filled gift of the present.
---
Featured image by Freepik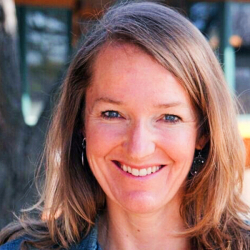 Latest posts by Rebecca LeVake
(see all)