Sterling North's Rascal is a gem I re-discovered by reading to my kids. It is a story supposedly about a raccoon, but really about North's boyhood growing up in Wisconsin during World War I — the war that affected everything yet, compared to the decades that followed, changed so little of essential American life. He narrates the story as an adult, retelling a treasured part of his childhood from the perspective of his eleven-year-old self.
Sterling's mother died a few years before this book begins, and his father was loving but preoccupied with work, so North had a boyhood of freedom and responsibility that was unusual even at the time. It seems to have worked out well. North remembers his boyhood self as industrious, compassionate, curious, and honorable even at significant personal cost.
From working as a newspaper boy, to spending days alone in the forest (save for his pet raccoon), to building a canoe with his own money in the family living room, Sterling lived an adventurous, self-sufficient boyhood that reads as very wholesome. He kept a menagerie of adopted animals, some domesticated, some not, and tells about their habits with the familiarity of long acquaintance.
"All my friends in this book, both animals and humans, were real, and appear under their rightful names.
A few less lovable characters have been rechristened.
— Sterling North
Even as a boy, North seems to have been a keen observer of character. He tells of crows and cats, lumber dealers and leather-men with the same frankness and sense of humor. In their various responses to his strong-willed, beautiful, destructive, affectionate pet raccoon, he plumbs the depths of their natures in a way that could be startling, if it weren't so gentle and natural-feeling. There was a lot of laughter in the room when we were reading.
It is in this open-eyed wonder and curiosity, shared by raccoon and boy, that Rascal's value truly lies. Sterling wrestles with a lot of big problems: The loss of his mother, the great war, the town bully, how to reconcile biological evolution with the book of Genesis, and finally the loss of his pet raccoon. His boyhood conclusions may not always be strictly orthodox, but his attitude of humble generosity to his fellow creatures always is.
North has a wonderful writing style that is evocative without being ornate, and clean without being stingy. It's well balanced, too: rhythmic alliterative passages winsomely portray the beauty of Wisconsin's wild areas; short and punchy sentences bring the action to life. It's a thorough pleasure to read aloud.
Whether you're looking for a "living book" to enrich your family's nature studies, or a tale of goodness to read for pure enjoyment, adopt Rascal for a while. I think you'll like him.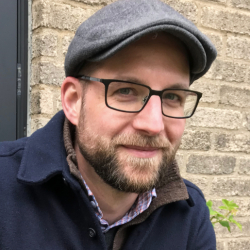 Latest posts by James D. Witmer
(see all)