My snow was more sleet and ice than real snow, but it was lovely for a few hours at least (and living in the south as I do, I'll take that), and it shut down the city for a couple of days. I stayed home and warm and cuddled my cats. I didn't know what a gift that was until I had to make the hard decision to put one of my cats to sleep when her fragile health turned suddenly for the worst. I think, for a cat's life, she had a perfect final four days of existence. She sat warm and cozy on the lap of her person, got on a few Zoom calls, and watched birds hopping in the snow. "How we spend our days is, of course, how we spend our lives," as Annie Dillard tells us. May you spend yours with those you love most.
Around the Web
Good Bad Art and Bad Bad Art
Jonathan Rogers reminds us of the value of good bad art.
In college I had a housemate who was a DJ at a Christian radio station. He believed (and freely admitted) that the music he played at the radio station was mostly a watered down imitation of the pop and rock music that was his first love. He viewed it as an act of spiritual sacrifice to give up "secular" music for "Christian" music that he considered artistically inferior. At the time I didn't know what to think of this pious sentiment. I have since decided that this kind of thinking is a threat to civilization.
Read more
Temperance and Play: The Weird and Wonderful World of Wordle
If you've been on social media at all in the past few weeks, you've probably seen a strange gray, green, and yellow-colored grid show up somewhere. K.B. Hoyle writes about the phenomenon and its delight.
When Wordle first caught my attention on Twitter, I was annoyed. Grids of gray, yellow, and green squares popped up on my feed, nonsense scores shared without explanation, day after day, from the same people. It was actually beyond annoying—the Wordle score sharing felt like a secret language or club and carried with it the same air of posting a screenshot of a run-route from a fitness app. It was a sort of, "look what I did." It felt both smug and vague: "If you know what this means, you know." I was not a fan.
And I was tempted to tweet out my annoyance, but I try to stay positive on social media, especially on Twitter. And I also tend to believe that, generally speaking, if a cultural trend is not causing actual harm, we should let people enjoy things even if we don't understand why.
Read more
Newbery Buzz #5: Cuba in My Pocket
Our friends at Redeemed Reader continue to look at the books that are making Newbery buzz this year.
Cuba in My Pocket (see our review) appears on many Newbery favorites lists right alongside Fallout, the book Megan and Betsy mulled over yesterday. In many ways, today's buzz book offers a prelude to Steve Sheinkin's masterful treatment of the Cuban Missile Crisis. It takes place shortly after Castro's revolution set in motion the events that would later come to a head in Fallout. But it also offers contemporary American kids a glimpse of how that revolution affected ordinary people—particularly those who weren't entirely on board with the Communist program.
Read more
Always We Begin Again
Lore Wilbert reminds us that winter is the beginning of the year.
It seems cliche to write about the weather since small talk is not the normal fare of this space, but I don't know how to talk about this without mentioning the weather.
It has been a full and bright moon here this week, which means it has also been a full and bright moon wherever you are too. But perhaps you do not have snow there, where you are, and something you should know is that when there is snow on the ground, it reflects any light in the sky and makes the inside of your home much brighter.
Read more
Around the Warren
Playing (Your Own) Role
James D. Witmer reminds us that we each have a role to play.
From an early age, we understand people by the roles they play. This can be a good way to learn. It can expand our imaginations, and help us aspire to virtues we might not otherwise think about.
Filling the role of father, for example, has motivated me to pursue gentleness. No other circumstance had made me consider whether or not I was gentle. But I believe a good father is both strong and gentle. So now that I'm trying to fill that role, my imagination supplies a goal I strive for.
Read more
Rascal, by Sterling North
A review of a rediscovered gem.
Sterling North's Rascal is a gem I re-discovered by reading to my kids. It is a story supposedly about a raccoon, but really about North's boyhood growing up in Wisconsin during World War I — the war that affected everything yet, compared to the decades that followed, changed so little of essential American life. He narrates the story as an adult, retelling a treasured part of his childhood from the perspective of his eleven-year-old self.
Read more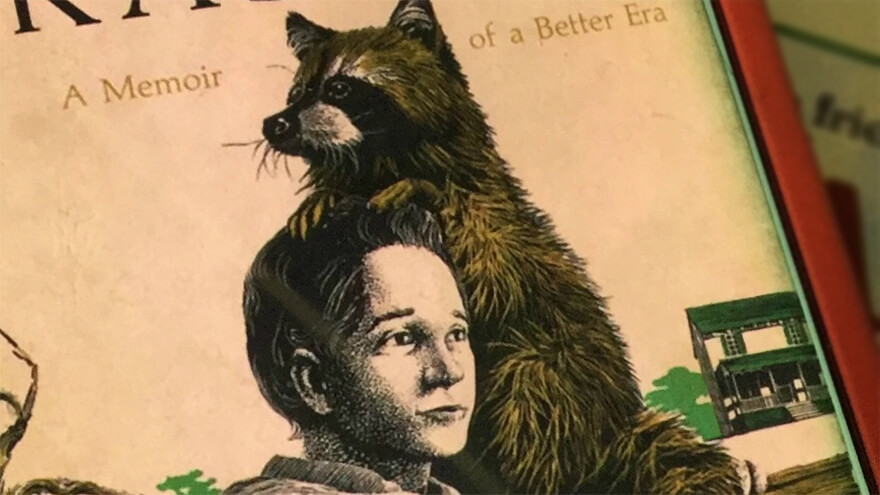 Something to Do with Your Kids
Is Valentine's Day a thing in your house? It's just around the corner, and if you want some fun crafts for making Valentines, here's a good one!
Something to Watch
Hexagons are the bestagons. If CGP Grey says so, it's worth listening to the argument.
Thanks for reading. We're on your side. 
–The Story Warren Team

Latest posts by Carolyn Clare Givens
(see all)