Inevitably, whenever I speak about the "biblical imagination" someone will object, "Isn't the imagination a bad thing? Doesn't the Bible say our imaginations are evil?"

It is a pervasive opinion, and there are understandable reasons for it. I think it is founded on the fact that whenever the King James Version of the Bible uses the word "imagination," it does so in a negative sense (e.g., "Every imagination of the thoughts of his heart was only evil continually" [Gen 6:5]). Clearly, if we are going to speak of a "biblical imagination, " we need to address this valid concern.

In the Old Testament, the King James Version uses the term "imagination" seventeen times. In four of those references, the Hebrew word "heart" (lav) is used. Literally, the Old Testament speaks of the "conceptions" of the heart (Gen 6:5), the stubbornness of the heart (Deut 29:19; Jer 3:17) and the evil plots of the heart (Prov 6:18). In the Old Testament, plots and evil schemes happen in the heart. There is no singular word for "imagination" in Hebrew.

In the New Testament, the word "imagination" appears three times in the King James (Lk 1:51; Rom 1:21; 2 Cor 10:5). In these references, two of the three also refer to the heart (kardia)…. In the final reference… it is safe to say it is implied.

In the New Testament as in the Old, the heart is a place of dark reasonings. The problem, then, is not the word "imagination." The problem is in the heart. The Word of God seeks to recapture and redeem our hearts for God's glory.

Is the heart wicked? Without a doubt, yes! Should our hearts be involved in understanding the Bible? Without a doubt, yes!
– Michael Card, from the preface to Mark, the Gospel of Passion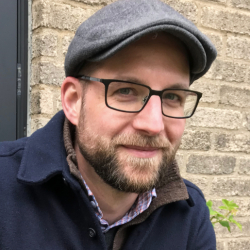 Latest posts by James D. Witmer
(see all)