Over the past few years our family has enjoyed The Gospel Coalition's series of picture books, beginning with Betsy Childs Howard's Arlo and the Great Big Cover Up and Polly and the Screen Time Overload. With whimsical storytelling and charming illustrations, both books offered kids practical guidance rooted in Scripture in a fresh, engaging way direly needed in our times.
That trend of good storytelling continues with the latest installment, Megan Hill's Meg Is Not Alone, but with surprising depth. The story of Meg is simple: the young protagonist accidentally wanders away from her family, and after a miscommunication between her parents she finds herself alone at church. In a moment of panic to which any child can relate, her eyes well with tears, but by God's grace a flood of friends at church soon assuage her fears of abandonment and support her until her parents arrive.
My seven-year old daughter stole it from my table before I could read it and described it as "comforting." When I delved into the pages myself, the book moved me to tears. Hill works with a deceptively simple storyline to highlight God's mercy and provision to us through His church. I found my throat tightening as the main character recalled each individual who paused to offer her a tissue, or cookies, or to call her parents; the tears finally spilled over when Hill connected all these kindnesses back to God's love for us as expressed through His church. We are never alone because God has provided a loving family through the church. Even more poignantly, we are never alone because in Christ, God never abandons us.
Meg Is Not Alone highlights for young children the truth of Jesus' promise: that He is with us always, until the end of the age (Matt. 28:20). As our family reflects upon His coming, I'm glad to revisit this truth with my kids through this book, and to remind them that whatever trials and fears afflict them, nothing can separate them from God's love in Christ (Rom. 8:38-39).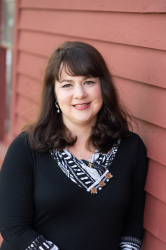 Latest posts by Kathryn Butler
(see all)