The Riot and the Dance Part I: Earth is a film described by its creators as, "A boisterous new nature documentary featuring a biologist who was once told he would never succeed if he kept blabbing about all that silly Creator-creature nonsense."
I got to watch an early screening with my family, and we found it both enjoyable and thought-provoking.
Dr. Gordon Wilson is narrator and presenter for the project which, produced and directed by author N. D. Wilson, is part Planet Earth and part Steve Irwin, Crocodile Hunter. N. D. Wilson's writing style is all over the narration and, as his fans will know, he writes non-fiction like a MMA fighter squaring off against a sumo wrestler. This might feel a bit grating at first if you're used to being narrated at by smooth British baritones or Morgan Freeman, but it is engaging and works very well in service of the aims Wilson described for us:
The goal has always been to create a nature doc that celebrates God's artistry in creation in a way that entire families can enjoy. We didn't want to make a debate movie or a film where Christians would end up fighting with each other about how old the earth is. We wanted to throw a party, wander through God's living museum, and learn more about him."
Or as Dr. Wilson says in the film, "To understand someone like Michelangelo, we would want to study everything he wrote, and everything he made. To understand God, we need to do the same."
The Riot and the Dance Part I: Earth has all the hallmarks of a quality nature documentary. The visuals are stunning, high-definition shouts of joy that revel in the beauty and drama of creation while the narration pulls back a curtain of mundanity to reveal the magic beneath:
Call it photosynthesis if you want, but these trees were crafted from thin air by the power of our nearest star."
As an introduction to a larger series (The Riot and the Dance Part II: Water is teased at the end), this film roams all over the globe with exuberance as its only apparent guide–and my kids loved it. Watching Dr. Gordon handle snakes of many disguises, lengths, and lethalities, our eight-year- old son blurted, "I wish we could watch this all night!"
Later, while hummingbirds performed a slow-motion ballet, our ten-year-old daughter sighed, "This is the best thing ever."
March 19th, 2018, at 7:00 PM local time, The Riot and the Dance Part I: Earth will be released as a nation-wide theatrical event. Use http://riotandthedance.com/ to find the theater closest to you, and put it on your calendar!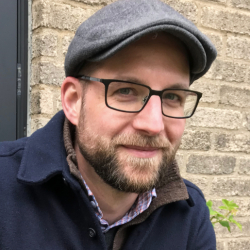 Latest posts by James D. Witmer
(see all)