If your kids are anything like my 8-year old, they may be slightly obsessed the the Hello Ninja series on Netflix. It's loosely based on N.D. Wilson's picture book of the same title. And after listening to Wilson discuss it on the Stories Are Soulfood podcast episode about poetry for kids, I was curious to give it a try.
The book is simple, deceptively so, like a ninja. But there are many gifts packed into this tiny book.
The rhyming text reads effortlessly. As someone who writes poetry for kids, I know achieving this kind of flow is far from easy. We've all read rhyming books where we stumble over the meter or where we can tell something is off just a bit. This isn't one of those books.
In the Stories Are Soulfood podcast, Wilson talks about how the best children's poetry uses "chubby" words. Words that bounce. He says, "God made the world in a way that language with rhythm and with bones, with percussion built into the vocabulary… is like coating an almond with chocolate." Using words this way creates poetry that kids can't help memorizing and repeating. Even pre-readers will be turning the pages on their own "reading" the book to themselves.
Hearing Wilson discuss books on the podcast, it's clear that he has a great respect for his young readers. He claims that even picture book aged kids "need the joy of words and language" to develop their tastes as readers of books. Consuming well-written, beautifully-illustrated stories develops children's appetite for good books.
And speaking of illustrations, Hello Ninja's illustrations by Forrest Dickison aren't just fun, they're visually appealing as well. The text and images work together to reveal surprises that are bound to bring a giggle. Bellyflopping ninjas, a mailman ready for battle, and a sandwich-stealing squirrel all add to the fun. 
But perhaps best of all—for many parents—is the fact that this fun and silly read winds down into a bedtime tale, encouraging children to shush anyone who might wake our now-sleeping ninja. On the bedroom floor, we see all the toys that inspired the nina play, subtlety encouraging young readers to imaginative play of their own.
Hello Ninja is sure to be a hit with your younger readers. You'll be able to tell when your own little ninjas start hopping around your house.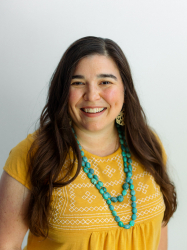 Latest posts by Carolyn Leiloglou
(see all)