Editor's Note: This year (2016), Advent starts on Sunday, November 27! Thus, the Advent season is quite a bit longer than usual. Our guide has readings for 24 days, but Advent will last for nearly a month, so you may want to space the readings out a little more than usual.
---
From the Bible – Isaiah 9:1-7
Today's Reading:
Have you heard? It's Advent!
What's Advent?
Well, advent means "It's coming."
What's coming?
Christmas is coming! And of course that's exciting. But Advent is special because we also remember the people who waited for the first Christmas—waited for years and years and years!
We enjoy Advent, being thankful because Jesus did come, and all the love and goodness in the world is here because he did. We also remember that Jesus is coming again. When he does, all of our sickness and sadness, fighting and fear, will be gone. Forever!
So Advent is a special time where followers of Jesus remember his first coming and eagerly look forward to his coming again. During this season, we can practice good deeds (like giving to the poor in a special way, reading the Bible, and praying together), and enjoy very old traditions like lighting the Advent candles each night. But we have to back up! To understand how it all fits together, like a magic puzzle, you must read the story from the Bible, and tomorrow we'll start in the best place for starting—the beginning.
—
You can download the complete Family Advent Art and Reading Guide or just download the art for printing and crafting by clicking here.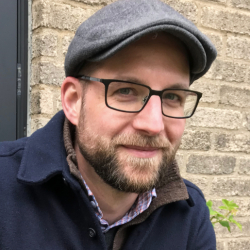 Latest posts by James D. Witmer
(see all)