"Sometimes a story's the only way back from the darkness"
— The Warden and the Wolf King
Last summer, on our Epic Family Road Trip, we visited Carlsbad Caverns. We arrived in the evening in time to see the bats swirling out into the twilight. The next morning, we said goodbye to the sun and made the long, steep trek into the chilly cavern.
The rock formations grew more stunning the deeper we went. But not all of us were able to enjoy them. As we descended into the darkness of the cave, and the sky vanished from our sight, one of my older children discovered that claustrophobia applied to large sky-less caves as much as small cramped spaces. As you might imagine, it's rather traumatic to have an episode of claustrophobia when you have at least an hour's walk between you and daylight.
I wasn't sure how to help her. She had loved watching the bats fly out of the cave the night before, so I tried to remind her this was their home. Their cave wasn't scary. No luck.
I wracked my brain for ways to help her. Maybe she could lean on the bravery of another. What books had she read with caves?
And so we began to talk about Gregor the Overlander and his bat Aries. We remembered Puddleglum from The Silver Chair who stomped the witch's fire and said he still believed in the sky. I reminded her how Aiden Errolson led a small band through a cave to win a battle in The Bark of the Bog Owl. If they could get through those deep, dark places, she could too.
Leaning on those stories gave her the strength to make it through the cave. I'm sure it won't be the last time that stories will give her a boost through a situation that is scary or difficult or enigmatic.
Plato describes a cave where the occupants are facing a wall, and all they see are the shadows of the things behind them. Without a way to make sense of what they see, those shadows seem like reality. But stories can give us a framework to make sense of our world. Stories can show us a hero we can emulate. Stories can be a light through the cave, guiding us when we lack the strength or wisdom to guide ourselves.
What "cave" are you or your child walking through? Perhaps there's a fiction friend or real-life hero who can light the way.
---
Featured image by National Park Service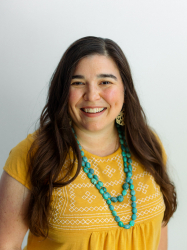 Latest posts by Carolyn Leiloglou
(see all)