On the side of a county road stands a large wooden sign. It is obviously hand-painted, a protest sign against some proposed government measure. It is eye-catching however, because the sign's maker punctuated the words by painting a large heron onto half the space. It is large,detailed, outlined in bold strokes. Obviously a great blue heron, it is a striking painting.
Downtown, a small community theater displays hand-made posters. Crooked letters and wobbly drawings boldly advertise upcoming productions.
At church on Sundays, our friend who leads music will unobtrusively slide in a song of his own making, with singable melody and thoughtful lyrics.
We are all called to create, to make the world more beautiful, to use our giftings and callings to add to the work of cultivation and kingdom building God is bringing forth. Let us, then, pay attention to the everyday artists, the often un-acclaimed and anonymous workers of beauty. The world is bursting with such artists, who often work in small and overlooked ways.
Someone drew the chalk art for the local coffee shop—isn't it lovely?
Someone created the design for that community poster.
Someone cultivated that little strip of garden.
Someone built that table.
Someone is practicing piano next door.
These are myriad ways in which we echo back the ways God works in ordinary beauty: He draws forth daisies from the earth, sculpts clouds into animals, fashions snowflakes and mountains alike. We would not call these beauties small, though we overlook them and take their glories for granted out of common exposure.
So we, too, are called to enact beauty and co-creation in the world. And, I think, to notice such everyday works of art, such so-called "common" beauties. They are no less worth celebrating than great ones, no less worth noticing. Indeed, I believe, in such practices of thanksgiving, of paying attention and noticing small acts of beauty and grace, we can better see the heart and hand of our God at work, our God who works as much in small ways as in great ones. The heart of a cell, after all, is no less complex than our solar system, and no less extraordinary for our inability to see and appreciate it on a daily basis.
Artists create in the hope of adding something to the world, and as such, hope to receive comment and criticism, because there is something in the interplay of work and viewer that is separate from the artist. We create because we must, and only hope that it does indeed add some amount of goodness, truth, and beauty to someone's life.
To those who put such works of art into the world, expecting no return on your contribution: Thank you.
To those who are working to perfect their art in order to share it: Thank you.
To those who still hold their work close in insecurity: keep going. One day, I hope you will offer something out, and know that whether or not a host of men praise you for it, it is seen by the One for whom it matters most.
For our children, let us model this hopeful offering. Let us show them that giving beauty to the world is worthwhile, even if they are the only ones to see. Make your window displays, your intricate wood-inlay cutting boards for friends, your music for a small crowd, your stories for an audience of two small children. Let's color pictures together, practice instruments, decorate birthday cakes, plant lush gardens and build birdhouses. Make them excellent. Make them beautiful. This, too, is worthwhile. This, too, is praiseworthy and honorable and true. God, too, is an artist of small things that are not small at all.
---
Featured image byFreepik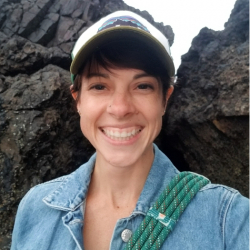 Latest posts by Millie Sweeny
(see all)