It's that time of year, folks! Is your shopping list overwhelming? I hope not. If you have young readers or book lovers in your home, you probably have already bought a few volumes for gifts. I have a few children who would be content with just new books for Christmas! However, I like to mix it up. In case you're the same as me, I enlisted the help of my houseful of bookish kids to make the following list of gift suggestions of Thoughtful Gifts (That Aren't Books) For Thoughtful Kids:
To Encourage Creative Genius:
Something to empower their creative genius. In my home, this might look like lots of different things. Maybe you have a child who would thrive on a new set of super-nice colored pencils. I have a burgeoning seamstress who would love a needlepoint kit from Clementine Designs. An aspiring cook or baker might like kitchen tools or ingredients. This can even take the form of a promise of classes or lessons. You probably know the joy of having high-quality supplies with which to pursue a favorite hobby or creative pursuit. Children are no different.
To Entice Them Outside:
Outdoor pursuits. Last summer we sprung for a slackline set (with a training line), and it was one of the most popular activities of our summer. We also have one son who is interested in archery, so we have filled out some of his supplies this year.
A piece of earth. Is there a little part of your yard that you can dedicate to a child's garden? We have two square-foot gardens (3×3) that are the kids' domain. I realize that in most parts of the country, time for gardening is far off, but here in the southeast, we're still growing some winter veggies. Maybe you parents in the Northern climes can hang onto this idea for Easter gifts. Extra ideas: gardening gloves, seeds, a seed-starting kit, grow lights, rakes, and trowels.
Other Thoughtful Goodies:
A watch. How very quaint, a timepiece. Most people use phones to tell time nowadays, so this will make your kids look super intelligent and hipster-y. Or, it will help them know what time it is without needing a device nearby. Either way, a win.
A wallet, bag, or satchel. As they've gotten older, my kids have appreciated having a good leather wallet to store money and gift cards. Maybe you'd like to spring for an extra-nice one from Growley Leather. Other bags and packs are always a favorite gift, too.
Blank books. My kids go through journals and notebooks like crazy — they get it from me! They fill them up with lists, story ideas and beginnings, doodles, and notes. We have especially enjoyed the ones from Cognitive Surplus, but this is an easy gift to grab anywhere!
Letter-writing inspiration. How about some nice notecards, stamps, a fountain pen, and address stickers or an address stamp?
Bookish clothing and accessories. When I'm stuck for gift ideas for the kids, I always know a t-shirt or pencil pouch featuring their favorite books will be a hit. Out of Print has all kinds of bookish things. I also love the heroine line at Carrot Top Paper Shop. Or maybe a felted friend from Wooly Willows would be a delight to your young reader.
Wishing you and yours a peaceful and delightful celebration this season!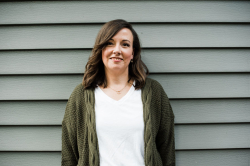 Latest posts by Kelly Keller
(see all)