In 1940, a young illustrator saw a series of photographs in Life magazine from Liberty County, Georgia. The photographer captured the day a state health officer visited a school to test the students for malaria. The little boy pictured looks hesitant, holds his hands out, and eventually cries from the pain of the blood test.

Though they captured just a passing moment in one little boy's life, the illustrator cut out the line of photos and hung them up on his wall. He would keep them there for two decades. Eventually, the little boy in the photos would become the main character of this illustrator's most famous work: The Snowy Day. Taking us along on a walk through the snow, Peter would crunch-crunch-crunch his way into readers' hearts.
The illustrator's name was Ezra Jack Keats, and he would go on to write a series of six books centered around little Peter, his character inspired by the boy in the Life magazine photographs. Peter would grow up and have a dog named Willie in Whistle for Willie. He and his friend Archie would struggle to find a pet to enter in the neighborhood Pet Show.
Ezra Jack Keats was born Jacob Ezra Katz in Brooklyn, NY on March 11, 1916. His parents had landed in New York after having fled anti-semitism in their native Poland. Growing up in the Jewish quarter of Brooklyn, Ezra loved frequenting the Brooklyn Public Library, especially the Reference Room. There, he enjoyed learning about all the magic of the world: plants, insects, art history, and geography, among other topics.
He began painting as a small child, partly supported by his father's exchange of coffee shop tips for tubes of paint for his son. Ezra would have his first paying art assignment when he was just eight years old: painting signs for a local store. He was in third grade at PS 182 at the time.
As he grew, Ezra's talent began to flourish. As a high schooler, he would paint the award-winning Shantytown, depicting the despair brought on by The Great Depression. Ezra won three scholarships, meaning he would be able to attend art school upon his high school graduation. However, he would never go to college. The day before Ezra's high school graduation, his father died suddenly of a heart attack. Instead of attending art school, Ezra passed up the scholarships and went to work to support his family.
In 1937, with the country still in the midst of the Depression, Ezra was able to secure a position with the Works Progress Administration as a mural painter. At the same time, he began painting backgrounds for Captain Marvel comics. It was at this time that he stumbled across the pictures of little "Peter" in Life magazine.
During World War II, Ezra joined the Army, where his talents were put to use painting booklets, posters, and artwork of Uncle Sam. He would change his name during this time, still experiencing marginalization due to his very Jewish name. Jacob Ezra Katz became Ezra Jack Keats. He found work more easily as a result.
After the war, he kept on working on projects of all types, finally illustrating his first book in 1954. It was at this time that Ezra was able to fully embrace on the page for others what he'd always seen himself: the beauty of urban settings. Remembering his own childhood in Brooklyn, he featured brownstones, playgrounds, and snow-covered streetlights in his illustrations. His vision would finally be fully realized in the Caldecott Medal-winning The Snowy Day, published in 1962.
Though Keats at first had a different cover design than the one we're familiar with, his editor, Annis Duff, insisted that Peter be featured on the cover. At the time, the idea of highlighting a black protagonist was unheard of. The description of the story does not mention Peter's race; instead, the book simply unfolds the story of a little boy having fun in his neighborhood on a snowy day.
An excerpt from Ezra's Caldecott acceptance speech captures his heart for the book:
All of us wanted so much to see little Peter march through these pages, experiencing, in the purity and innocence of childhood, the joys of a first snow. I can honestly say that Peter came into being because we wanted him; and I hope that, as the Scriptures say, "a little child shall lead them," and that he will show in his own way the wisdom of a pure heart.
Ezra went on to write twenty-two books and illustrate eighty-five. He became a beloved friend to his old neighborhood in Brooklyn, where today you can see a statue of Peter and his dog Willie in Prospect Park. To this day, The Snowy Day still sits atop the list of the New York Public Library's list of most checked-out books — a list that spans one hundred and twenty-five years.
Keats died in 1983. Since then, the foundation that bears his name created an award with the stated purpose: "to nurture illustrators and writers, early in their careers, who create extraordinary books that reflect our diverse population, the universal experience of childhood and the strength of family and community."
For further reading:
A Poem for Peter, a creative non-fiction picture book about the creation of The Snowy Day
The Ezra Jack Keats Foundation
Biography at the deGrummond Children's Literature Collection at the University of Mississippi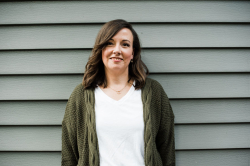 Latest posts by Kelly Keller
(see all)