When my oldest son was three and a half, he taught himself to read. He is that sort of person, one to take all the individual parts and put them together on his own. He does the same now with math equations, piecing the world together, while I try to give him the tools he needs to do so. Not surprisingly, this precocious three-year-old was only interested in the non-fiction section of our library. We read through the entire section on outer space multiple times. I have videos of him bent over books, his lisping little voice sweetly reading to his baby sister:
"Thee? This is Thaturn! It has ringth. Jupiter hath ringth, too, but you can't thee them."
Then, that baby sister grew up, and she changed his world. Where he only wanted facts, she demanded story. Princesses and dragons, talking butterflies and mice dressed in their finest, family adventures and tales of my own childhood. From Brambly Hedge to St. George and the Dragon, I cannot fill her enough. Even now in the evenings, my son takes his giant encyclopedia to bed, and she takes her battered copy of The Penderwicks.
And in this shift, I saw her change him. He never played pretend. Ever. He played, sure, but it was always very mathematical. He sorted, built, categorized, solved problems. She tolerated none of that. In butterfly wings and a dress stolen from my closet, she brought color to his world. Jumping headfirst into his Lego builds, she crafted stories for the space ships he made. She gave names and backstories to his Hot Wheels cars, sorted them into good guys and bad guys. She took his rock collection and made families of them. And he followed suit.
This nudge of her joy, her stubborn insistence on sharing her play with him, on gently shifting his games to include both of them, opened his mind wide. She showed him a whole new way to exist in the world. When he was finally old enough for The Green Ember and The Lion, the Witch, and the Wardrobe, he couldn't read them fast enough. This led to more and more stories, and his play, of course, followed. He can now be found subduing dragons outside, creating epic space battles with Lego ships, covering his bedroom floor with his own version of Risk as good faces off against evil. My mother heart breathes a sigh of joyful relief as the two of them speed out the door, capes flying behind.
I have always loved stories, have always surrounded them with books and told them tales. He enjoyed them, but they didn't sink into his heart and capture his imagination. It took the stubborn love of a little sister who refused to let him play alone to break into his rational world and flood it with color. It took her love to teach him this love.
It takes imagination to love someone like this. His sister saw him as a playmate, and pursued him as such. She saw him as more than he was then, as what he could be. Her view of the world, her wide open childish imagination saw potential, and from that flowed out grace and laughter and the beginning of a (I pray) lifelong friendship. And in this, is the heart of the gospel. Jesus opens our eyes to a world, a future and a present, grander, more beautiful, more joyous than we can wrap our minds around. He draws us in, with stubborn insistence that we will be more than we are now, with hope and laughter, with spring daffodils and books by the campfire and weekly rhythms of bread and wine. I believe this, too, is part of the mending, of the making new of all things: to draw together what is and what we imagine can be, and to love with the insistent stubbornness of a toddler wanting a playmate.
Featured image by prostooleh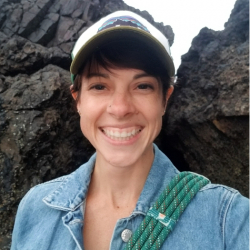 Latest posts by Millie Sweeny
(see all)