Here, from Maddy Guzzaldo (age 6) is one of the many, many delightful stories we received in response to Jamin Still's Illustrative Writing Prompt. Enjoy!
---
Once upon a time, there was a graceful peacock running through the forest having a great time when all of a sudden a robot boy swooped down from her tree. It was her home. She loved it. It was the best place that she had ever been in her whole entire life.
The robot boy took her to the ocean, casting a spell on her he said, "Peacock, peacock, turn into a ship!"
And so it happened. The robot boy set sail on the peacock ship. Little did he know that a girl was on the ship. He did not see her, but the peacock felt her.
The crashing waves disturbed the peacock. The peacock longed for her home, the Forest Medathon. She longed for her friends. he longed for everything. But most of all she longed to be free.
Her greatest dream was to fly over the ocean, but not to be a ship sailing on the ocean. She did not like being a ship, especially under the robot boy's command. Little did the peacock know that the girl was a witch and she cast a spell on the robot boy to make him drowsy so that he would fall into the water and be lost to sea forever.
After she cast a spell on the peacock to make it alive again, the peacock was grateful. The peacock loved the witch and became the witch's pet. Little did they both know that the robot boy was still alive and swum back on the shore in search of the peacock and the witch.
And the rest? That's another tale.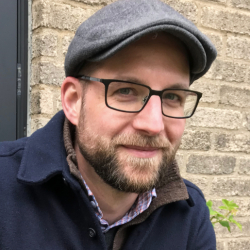 Latest posts by James D. Witmer
(see all)