First, Maginos heard the clacking of jaws. Stooped on one knee, his whiskers drooping, the mouse wizard glanced up to see a monstrous spider looming above him, its eyes burning through the gloom like hot coals. Maginos stretched out a trembling forepaw, and the hint of a magic firebolt sparked between his fingers. Every muscle tightened as he held his forelimb aloft. The fire brightened, and hope swelled.
Then, the bolt fizzled out. Maginos' vision darkened, and with his paw still burning with magic fire, he collapsed.
When she saw Maginos fall, Tilda sprang into action. With a quick glance at the spider scuttling toward her, she somersaulted across the courtyard, peeled aside Maginos' cloak, and withdrew a vial to dress the wounds that raked across his flank. As she treated the first gash, a shadow spilled over her, and a harrowing screech split the air. Before she could react, the old crow, crazed with hunger, dived and struck her in the side.
Prince Collin cried out as Tilda hit the cobblestones. With his sword glinting like a pale flame and rage in his eyes, he struck the crow, and littered the stone with its mangy feathers. Then he wheeled toward the vile spider, and landed a blow. The monster shrieked and reared skyward, but then swiped at Collin with its dripping jaws. The prince staggered backward, and cradled a poisoned wound that sizzled and festered on his arm.
With a hiss, the spider skulked about, and trained its hideous eyes on the last mouse standing: Filch. The scamp stood in the middle of the courtyard, his jaw agape, his tattered cloak hiding his eyes. From the beginning, Filch had cared only for himself. He'd stolen cheese while the others fought roaches, and fled to the save himself when the rats attacked. Now, he alone stood between the monster, and the salvation of the kingdom. What would he do? Was his heart still as hard as the silver he'd stolen? Or had the bravery he'd witnessed ignited in him a flicker of honor?
We paused, and my son, tears misting his eyes, drew a breath. "Mom," he said slowly, "I think Filch has changed. I think he's going to risk his life for the others."
He reached for the dice.
When Games Come Alive
While this tale of medieval mice seems lifted from the pages of a children's novel, it refers to a recent campaign of the board game Mice and Mystics. On a hot Saturday afternoon, my kids, ages six and eight, sipped from glasses of birch beer, traded cardboard cheese slices, and listened with wonder as my husband read the story of Prince Collin, his loyal friends, and their quest to save the kingdom from the evil sorceress Vanestra (who just so happens to be an arachnid). With each die roll, the kids contemplated how their assigned characters would act. Filch was fast, but out for himself; Tilda had little defense, and would focus on healing others. By the time the saga ended, the birch beer was forgotten, the characters had come alive, and the kids had enough fodder for pretend play to last a month.
The afternoon was just one example of the joy we've gleaned from playing story-rich games as a family.
Not the Board Games You Grew Up With
My husband and I were never gamers. We grew up on Monopoly and Clue, games with simple mechanics, whose character depth penetrated no further than their plastic pawns. We turned to games for amusement, but not for the type of rich, imaginative storytelling that molds and changes you. There's little growth or deepening in Monopoly beyond the accrual of paper money. Motion pictures aside, Clue offers no hint of redemption, or grace, or hope for Professor Plum in the study with the candlestick.
Things changed in our household when we discovered cooperative games. Diverging from the dog-eat-dog competition of classic board games, in cooperative games players work together toward a common goal. Our first introduction was Forbidden Desert, a game in which a party of explorers crash in the Sahara, and must assemble a flying machine to escape. At first, the game sat on a shelf and collected dust, but when we finally peeled off the shrink wrap, Forbidden Desert drew us into a surprising narrative. Now, Friday nights routinely find my husband and I bent over a board, diving into adventures that carry us through the week: journeys through Middle Earth, struggles for survival alongside Robinson Crusoe, even detective work under the tutelage of Sherlock Holmes.
Introducing Games to Your Family
When our kids repeatedly asked about our Friday night adventures, we realized they, too, would benefit from stories told over tabletop. Cooperative games allow kids to immerse themselves in imaginative worlds as they explore spooky castles, shelter from sandstorms, and cross the plains of Rohan. Kids learn to empathize with their characters; far more than dull plastic pawns, the characters in these games come alive for kids, and soon infiltrate their daily play and banter. (Filch, the rogue mouse from Mice and Mystics, recently featured in a short story by my eight-year old.) Our pastime of narrative gaming has grown into a family affair, with memories forged with each roll of the dice.
As the dust that first accumulated on our copy of Forbidden Desert shows, modern games can intimidate. Those of us raised on a diet of Parcheesi can panic upon opening a game with oodles of pieces and several books to explain gameplay. For the willing and patient, however, the joys are myriad. Here are some tips to incorporate games into your own family's storytelling.
Do some research. Dozens and dozens of games now flood the market. To sift through them, head to Board Game Geek (BGG), a forum that serves as an excellent resource for all things board games. The site includes subdomains specifically focused on offerings suitable for families. Pay special attention to your kids' ages, temperaments, and interests; the grisly orcs in Journeys in Middle Earth will terrify a sensitive toddler, but just might be the ticket for a budding teenager diving into Tolkien.
Watch it played. Opening the box of a complex game can send the un-initiated into a tailspin. To minimize overwhelm, watch a video to see how a game is played before you dive into the rulebook. One reliable source is the YouTube channel Watch It Played.
Paint your minis. This one will entrench me firmly in the nerd camp, but please hear me out. Most miniature figures (i.e., playing pieces) in games arrive as molded plastic in a single color. To bring your characters to life, consider painting them. You can invest in tiny brushes and paints sold at game shops, but even acrylics will work. Better yet, recruit your kids! Entice them to stop coloring the walls, pull out some paints, and let them go to town on figures they'll later wield as beloved heroes.
Make it an experience. Once you're comfortable with the mechanics of a game (and be gentle with yourself, it may take a while), make game sessions a family event. Set aside an afternoon monthly, and jot it onto the calendar. Read backstory in different voices. Play thematic music in the background (for games in Middle Earth, Clamavi de Profundis' adaptations of Tolkien's poems set the tone). Invite your kids to ponder their characters. Revel in the excitement and the laughter that ensues.
And when the game ends, recount the story. Talk with your kids about what happened. Who blossomed at the last minute? Who acted true to character? Who surprised one and all with sudden bravery? In between die rolls, you'll find that story arcs abound. And through them, you'll point your kids to truths no game of Monopoly could ever capture.
---
Featured image from theboardgamefamily.com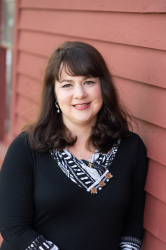 Latest posts by Kathryn Butler
(see all)