Think about your favorite movie. Now think about the point in that movie where the main character is at his or her lowest point. Maybe it's Rocky, bruised and battered, swaying on his feet – staggering but still upright. Maybe it's Elinor Dashwood, cruelly treated by envious women who only pretend friendship.
Now notice something about your feelings toward that character: Do you despise the punch-drunk boxer kept upright by stubbornness? Are you irritated by the young woman overcome by heartbreak?
Of course not. But why not?
I think it's because, in our favorite stories, we see clearly that the antagonists are formidable and real. That jab of Apollo Creed's would stop a plough horse. No wonder Rocky's eyes are swelling shut. Miss Steele has social leverage and a spiteful, cruel streak. No wonder Elinor cannot be simply sensible.
We don't look down on these characters. We sympathize with them, and we admire them. We root for them to overcome their weaknesses and, thereby, to overcome their foes.
Now, however, notice something about your feelings toward your own shortcomings. Are they equally gracious and sympathetic?
Probably not. And why not?
Is it because we forget we have a real antagonist? The apostle Peter warns us,
"Be sober-minded; be watchful. Your adversary the devil prowls around like a roaring lion, seeking someone to devour." (1 Peter 5:8 )
That's right: DEVOUR. No wonder we parents reach the end of each day covered with our own metaphorical blood (besides the other various body fluids). You should see the teeth on that thing!
Sadly, a lion you can't hear or see is too easily forgotten, and we're tempted to be angry with ourselves for every slip and fault. We're tempted to take credit for all the evil (and most of the good) we find in ourselves. But we're far too small for that to be true. We're children of the True King. We're imperfect, and immature, but we're the good guys.
Tonight, let us repent our sins and celebrate another day in which we wrested truth, beauty, and life – even a little of it – from the jaws of a lion.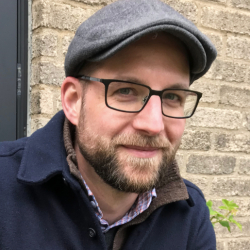 Latest posts by James D. Witmer
(see all)