Advent is a season of anticipation. When Christmas comes, we celebrate the arrival of our Savior! But before that, we identify with the children of Israel and their generations of desperately hoping God would do as He promised. We need Jesus to come again. Our broken bodies and entropic world cry out for it.
I wanted my children to understand this, believing it would boost their excitement for Christmas higher than St. Nick's reindeer. But how to explain Advent without making it solemn and dull?
I stumbled into my solution by way of a childhood friend: Arch Books, a series by Concordia Publishing House. Written by different authors, illustrated by different artists, each Arch book sets a Bible story to verse and tells it in about fourteen pages, at roughly a 3rd grade reading level.
As an adult, I find the quality of writing and art varies greatly from book to book. But the good ones are very good, and one in particular I commend to every Christian parent: The Easter Gift. It begins:
…At the very beginning of time
When the world was all fresh and tame
…the first people sinned,
Though God was their Friend,
And things were never the same."
The first six pages re-tell history from the fall to the nativity, showing a creation that waited – and waited – for the Son of Promise. They do it with poise, and with passion.
One page in particular wraps the ache and the promise of Advent in a way that has connected with each of our kids:
The Gift did not come for a very long time,
Not even for thousands of years.
God's people waited long,
Now and then with a song,
But sometimes they cried bitter tears."
The last eight pages give Jesus' short life the same well-balanced treatment. The book ends not with the Resurrection but afterward, with the eternal hope Jesus gave us by it. (So it is good reading for Easter, too.) It is one of the only Bible story books, besides those by our Sally Lloyd-Jones, that has moved me to tears.
I believe children and adults alike can better celebrate the major Christian holidays (that's holy-days, you know!) when they are properly set against the larger story. That's an ambitious goal for a children's book, and I find myself delighted, each time I read it, with how well it is accomplished by The Easter Gift.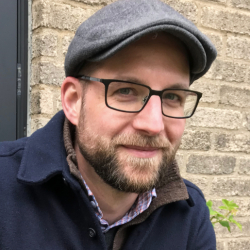 Latest posts by James D. Witmer
(see all)