Someone told me the hardest part of her move to New York City was adjusting to the endless smorgasbord of once-in-a-lifetime opportunities. Every night was a chance to see an amazing play, an exotic band, a peerless exhibition. In order to grocery shop, to pay bills, to sleep, wonderful things had to be foregone. Staying sane required walking past things she might previously have traveled to see.
In one way, this reminds me of parenting.
Are you committed to helping your children understand the world, and their place in it? It's a tough job. You're going to need encouragement. And do we have it!
There are books about good parenting, and devotionals for necessary self-care, podcasts to challenge you, teach you, and make you laugh, conferences where humble, gifted people offer tips and remind you that you're not alone, and blogs about your vocation, your avocation, and all seven of your creative interests, including the one you haven't actually tried yet.
Any single option could edify you. Each one could be a stepping-stone to healthier, thriving children. But you can't take them all in. You just can't. There are groceries to be shopped, bills to be paid, and sleep to be snoozed.
Staying sane requires walking past things you might otherwise have been desperate to try. It also means trusting God to provide the encouragement you need. Beware the feeling that it's the podcast you've never heard, or the conference you missed, where God was dealing out the REAL manna.
Wherever you are, whatever is in your hand – that's His provision for you. He says to all of us, as He did to Paul,
"My grace is sufficient for you, for my power is made perfect in weakness." (‭2 Corinthians‬ ‭12‬:‭9‬ ESV)
There's another way parenting resembles the New York art scene. This is about abundance too – because every day, every night, with our children is a once-in-a-lifetime opportunity.
You will never have another 4th of July night with your seven year-old daughter. Next time she'll be eight, and so much grown. My five-year-old son will never again stand astride 6:55 AM of a Tuesday, June 16th, in a ridiculous assortment of dress-up clothes, and ask me to pour his breakfast milk.
We will miss some of these opportunities, too. Maybe to grocery shopping, or maybe to our own shortcomings. But they are endless, because mercy is endless, and grace follows hard behind. Just grab the next one.
---
Featured photo by Andrew Carter Mace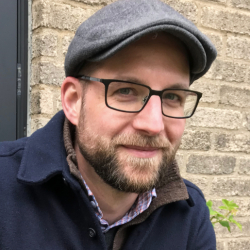 Latest posts by James D. Witmer
(see all)