My little boy is awesome. Logan is three, and taller than a lot of four-year olds. He loves to roughhouse, to be outside, and to ride roller-coasters. He's also afraid of the dark, the vacuum cleaner, and bugs small enough to be bullied by bacteria.
Knowing myself as I do, I shouldn't be surprised by his fearfulness, but I kind of am. Even more surprising is how much I've struggled to encourage him.
I've tried telling Logan that his fears are silly, and that he shouldn't be scared. Again, my own experience should have told me that wasn't helpful.
"So I'm terrified AND dumb. Thanks, Dad!"
But I didn't figure it out until after talking with an older friend. My friend advised me that, whenever I could, I should sympathize with my boy's fear, and then encourage him to push through it. As some british guy wrote somewhere, courage does not consist of being unafraid, but of acting despite fear.
So I tried it out, and Logan seemed to appreciate my sympathy. But when I told him that I wanted him to be brave, he gave me the strangest look. He didn't know what brave meant.
I described how I wanted him to behave; to remain calm, remember that I love him and that he's safe, to close his eyes and shut out the dark. And Logan kind of thought I was nuts. He couldn't do these things because he was afraid. Had I missed that part?
Finally, I remembered Cowardly Clyde – a fictional horse who ran terrified out of an ogre-harboring woods, then turned around and ran back into that woods, because his friend needed him. Logan loves that story. "Being brave" was beyond his three-year-old mind. But "be like Clyde," he understood. And it inspired him to try.
I believe stories can broaden our empathy, helping us to love. They tell us we're not alone. But they can also give us something to live up to, whetting our appetite for virtues we don't yet have.
For Logan and me, a couple of guys still learning courage, that's a good reason to keep reading.
————————————-
Photo by ArtfulParent.com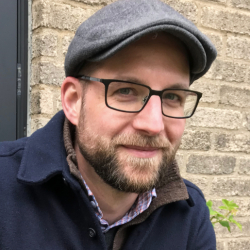 Latest posts by James D. Witmer
(see all)