If I had to make a list of "Story Warren Values," somewhere on that list would be the idea that nurturing imaginations is NOT a job only for professionals and experts, but comes best from parents who share their own imaginations and loves with their children.
I recently had a discussion with Sara Ernst, who wrote and illustrated Dragons Really Do Love Tea
and, though we were discussing the book, I think her embodiment of this value is my favorite part. Have a look.
JDW: Let's start with the important stuff. In the back of this book you include instructions for having a tea party, and a recipe for scones. Have these been field-tested? Do you need volunteers for future tests?
SE: If you consider friends and family and small children that I know field-testing, then yes! I would love for everyone who reads the book to be a field-tester of my scones! I worked very hard to create a recipe that would be as allergy-friendly as possible so that everyone can enjoy a scone with their tea parties! I have personally been having tea parties since I was little and STILL have them…with adults and with my child, so I felt pretty confident in my tea party directions.
JDW: Can you tell us a little about your book, and who it's written for?
SE: Sure, it's about a brave little girl who does not believe it when the townsfolk tell her there is a terrible dragon in a nearby mountain cave. She decides to journey there to find out for herself. What she finds is an unexpected friend with surprisingly lovely pastimes. Together they change opinions and lives through sharing (and tea!)
JDW: You self-published this book, which more and more people are finding is the best way to share a creative project with the world. Was that a frightening decision?
SE: Honestly, the idea of sending a copy to 10 different publishers seemed more frightening then doing it on my own. When I wrote and illustrated this book, I didn't know how wide spread I wanted it to be. I'm not out to be famous. I'm out to accomplish my goals and be true to who I am. This book is a reflection of the child I still am inside…the little girl who loved to draw and tell stories. I wanted this book to be for me…and it was. I wanted to publish it myself and know that I had a part in every step.
JDW: You have a daughter, correct? How old is she, and how does she feel about dragons?
SE: I have a four year old who is both incredibly literal and and imaginative. She loves this dragon and begs me to "be the dragon"…as the dragon is very sweet and speaks with an English accent!
JDW: When choosing stories for our children, it's important to treat them as individuals, loving them with stories that are sensitive to their personalities and development. What are a couple stories that your daughter loves, that other children with big imaginations and tender hearts might enjoy?
SE: My child is also very sensitive to anything remotely scary. With that in mind, this dragon was kind. Monsters are fictional anyway. Dragons don't really exist, so why not make it one that everyone feared, yet no one knew they would love? Why not have a dragon that would love to have a little girl as a friend to share scones and tea with? This made it all magical for my own child and brought an extra dose of imagination to our weekly tea parties. She understands that not everything or everyone is nice, but that it can certainly be magical to imagine it!
One of our favorite stories are any of the ones of "Brambly Hedge." It has the charm of Beatrix Potter, yet the mice have a whole world of their own. The illustrations are so detailed and lovely and the stories perfect for a younger audience. Charlottes Web was our first chapter book and will always be one that we come back to!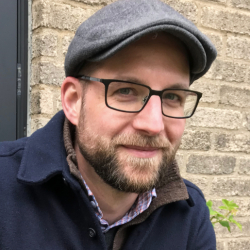 Latest posts by James D. Witmer
(see all)