As one who's gifted it to expecting parents over the last year, I was delighted to see Kevin DeYoung's The Biggest Story Bible Storybook win a Christian Book Award from the ECPA this month. And I was even more excited to learn that Crossway has published an entire Sunday school curriculum based on this fantastic kids' resource.
Sifting through children's Bible study resources can daunt parents and teachers alike. Many curricula offer watered-down presentation of Scripture, operating on the presumption that children can't handle the weightier topics in the Bible (it's easiest to talk about Noah when we focus on the cute animals). Others may offer excellent didactics packaged in a dry format that quickly loses the attention of our increasingly distractible kids. Many, many resources offer, as Crossway phrases it, a "decontextualized" approach to Scripture that fails to root children in why the gospel is so vital.
Enter The Biggest Story, a 104-lesson Sunday school curriculum for students in kindergarten through fifth grade. Dividing lessons between the Old and New Testament (52 in each), Biggest Story presents kids with a survey of the Bible with an emphasis on God's great story of redemption through Christ. Each lesson includes a beautifully illustrated and narrated video, a reading of Scripture (often full chapters, rather than cherry-picked passages), discussion question prompts, and activities and crafts to help engage young minds. The editors offer several activity options for each lesson, and have categorized them based on age-appropriateness (K-2nd grade and 3rd – 5th). Adjunctive materials include posters that summarize key material, as well as a verse memory card for each lesson.
While the teachers' manuals (pictured in the photograph) are beautiful and rich enough, I was particularly impressed by the website that coincides with the curriculum. It's thorough, easy to navigate, and would be a great option for Sunday school teachers who prefer working with a tablet. The curriculum seems adaptable across multiple settings. I could envision using these lessons not only in church or in a classroom, but also at home, for use as a devotional guide with elementary-aged children.
Overall, I'm grateful to see The Biggest Story among other Sunday school curricula. It's gospel-centered, biblically-rich, engaging, beautifully-illustrated. . . and promises to point children and parents alike to the one Story, the best Story, the true Story that gives us hope in the darkness, and reminds us that He will make all things new.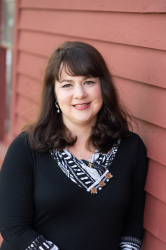 Latest posts by Kathryn Butler
(see all)