Last fall I dropped by the church office to drop something off. After a few minutes of chatting with the staff, I picked up my keys to go home. One of our interns then asked me the question, "what would you say to someone who thinks it's not valuable spiritually to read fiction?" I put down my keys. An hour later, I actually went home, and he went back to his seminary homework. This series is inspired by that conversation.
---
Part 1:
If you grew up in the church, as I did, you've heard the gospel literally thousands of times. You've heard lots of Christian encouragement and probably too many platitudes — some accurate, some not.
While we shouldn't overlook the role of regular Christian teaching in our lives, we can grow numb to it. We've heard most of it before, and it doesn't sound new anymore. It doesn't sound wondrous anymore. We don't feel anything when we hear it.
When we allow quality fiction into our lives, we open ourselves up to the wonder of the gospel again, but through a side door. The beauty and wonder of the gospel can get to our hearts without our even realizing it's doing its work.
In explaining why he chose his specific form of fiction, the fairy story, for his children's series, CS Lewis called this ability of fiction "stealing past watchful dragons."
On that side (as Author) I wrote fairy tales because the Fairy Tale seemed the ideal Form for the stuff I had to say. Then of course the Man in me began to have his turn. I thought I saw how stories of this kind could steal past a certain inhibition which had paralysed much of my own religion in childhood. Why did one find it so hard to feel as one was told one ought to feel about God or about the sufferings of Christ? I thought the chief reason was that one was told one ought to. An obligation to feel can freeze feelings. And reverence itself did harm. The whole subject was associated with lowered voices; almost as if it were something medical. But supposing that by casting all these things into an imaginary world, stripping them of their stained-glass and Sunday school associations, one could make them for the first time appear in their real potency? Could one not thus steal past those watchful dragons? I thought one could. That was the Man's motive. But of course he could have done nothing if the Author had not been on the boil first.

(from Lewis' essay "Sometimes Fairy Stories May Say Best What's to be Said"
Another way fiction can steal past these dragons is in the revelation of our sin. The Old Testament gave us a perfect example of this ability of a story: the confrontation between the prophet Nathan and King David. You remember the history: David wrongfully took Bathsheba from Uriah while he was at war and had Uriah murdered in battle. At this point in the story, David is very clearly numb to his own tangled web of deceit and sin. God sends Nathan to wake him up. And what does Nathan do? He tells David a story.
There were two men in a certain city, one rich and the other poor. The rich man had very large flocks and herds, but the poor man had nothing except one small ewe lamb that he had bought. He raised her, and she grew up with him and with his children. From his meager food she would eat, from his cup she would drink, and in his arms she would sleep. She was like a daughter to him. Now a traveler came to the rich man, but the rich man could not bring himself to take one of his own sheep or cattle to prepare for the traveler who had come to him. Instead, he took the poor man's lamb and prepared it for his guest.

David was infuriated with the man and said to Nathan, "As the Lord lives, the man who did this deserves to die! Because he has done this thing and shown no pity, he must pay four lambs for that lamb."

(2 Samuel 12)
Because David was caught up in the story Nathan told, he was moved with compassion towards the poor man in the story. This empathy is what he ought to have shown to Uriah (the poor man) in regard to his ewe lamb (Bathsheba). David was caught off guard through the side door of a story.
Parents, you may be excelling in promoting fiction to your children, but do you allow yourself the same? What fiction is working on your heart at the moment? Let us know in the comments.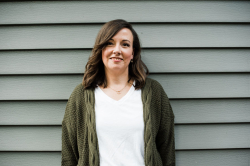 Latest posts by Kelly Keller
(see all)