My Tree Journal
There are five specific trees on our land–an oak, a rosebud, a crab apple, a silver maple, and a towering cottonwood–that have been singled out. Each of these trees has been chosen by one of the nature journalers in our family. Our plan is to carefully observe our selected tree month by month as it journeys through the seasons.
We began in early March as the trees were beginning to wake from their winter slumber. We sketched and recorded our observations about height, bark, branches, buds, etc. In April we did the same thing and again in May. We were amazed to see the rapid transformation of each tree. They were completely bare in March but by May, full of leaves. Some of them, like the maple and cottonwood, had in that short time blossomed, been pollinated, and launched their seed bearing "fruit" into the world. Helicopters and cotton were flying!
As I observed my kids observing their trees, I thought about how fast the kids change as well. I knew that by the end of our tree observing year they would be different people then when we started. Some intellectual growth would be evident in their journal pages–more sophisticated observations, richer vocabulary, improved drawing skills, etc. Physical changes would of course be easy to spot, and emotional and spiritual growth, though perhaps harder to identify, would be just as dramatic and profound.
Kids, like trees, change a lot in a year.
My Kid Journal
Forteen years ago, when my oldest was two, I began a journal. It was nothing fancy–just a Word document titled "Palmer's Journal." At first each entry was simply a dated list of bullet points naming things he liked or funny things he said:
Your favorite food is "beeps" (grapes)…
You giggle and say "pico Haddie" (cut the pickle Haddie)…
You love to go to the park and play "baseball" in the yard…
Eventually I shifted to longer prose, noting in paragraph form the things he learned, tried, enjoyed, or struggled with during a particular season. I'd include funny statements, discipline challenges, and major highlights – anything that could one day be a precious bit of history brought back to life. I started similar documents for each of our children when they were born–in some cases even before they were born.
I have never doubted that these journals are a good thing to do; the problem lies in the actual doing. The "soon" of "I should write in the kids' journals soon…" has a way of stretching on and on. A quick scroll through the documents will show that six month gaps between entries is common and in some instances, even a year!
But now I have the trees to remind me.
Each month, as we set out with intentionality to observe our trees, I am reminded to observe the kids as well–to note the changes, to celebrate the growth, and to appreciate all the ways God is teaching and stretching and molding them into the fabulous young people He created them to be.
And I am reminded to write it all down.
Maybe not every month. But more than once a year would be good. Because it's true; trees and kids change a lot in a year.
---
Featured image by wirestock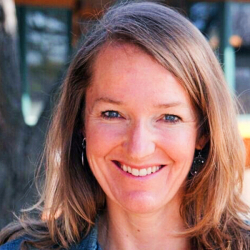 Latest posts by Rebecca LeVake
(see all)