This summer, my wife and I took a once-in-a-lifetime vacation to a place of extraordinary beauty. I'm not a naturally observant person; I easily get adrift inside my own head, and I feared I would return with fuzzy, tunnel-vision memories of our trip.
To avoid this, I set myself some guidelines for using my camera, and some goals for journaling descriptions of what we saw (not just what I was thinking). Probably my most effective effort, however, was channeling my curiosity and wonder into a practice of looking on purpose.
For each magical sight, I tried to slow down, to absorb the mood of the scene, soaking in the atmosphere of the place. Then I tried to slow down even further, to notice what pieces were making up that atmosphere: the color of stone, the arrangement of hills and buildings, the feel of sun and wind and rain, ambient sounds and smells, the quality of the light.
I'm happy to say it worked. I brought home many vivid memories of the places we saw and the time we had together.
I got something else, too – something that might be just as valuable.
This something began part way through our trip, when I realized that the extraordinary beauty we had traveled to see was ordinary to the people who lived there. That raised the question: Does the same beauty live at home, in all of OUR ordinary places?
Of course not. There are no castles in my neighborhood.
Yet, there are a half-dozen oak trees on my street that match any we saw on vacation. The play of light across the hilltops around my kids' soccer pitch shines like the most magical landscapes. And Wolf Creek has a beauty and utility that planted a town.
I want to change my answer.
Yes, there is beauty here at home, in our ordinary places. I know this because, while I was on vacation, I learned the skill of really looking – and sometimes I remember to use it. When I look on purpose, as if the places and people around me were foreign, I realize that they are beautiful, odd, and have all the marks of being made on-purpose.
I think that there are no ordinary places.
Because children have abounding vitality, because they are in spirit fierce and free, therefore they want things repeated and unchanged. They always say, "Do it again"; and the grown-up person does it again until he is nearly dead. For grown-up people are not strong enough to exult in monotony.

But perhaps God is strong enough to exult in monotony. It is possible that God says every morning, "Do it again" to the sun; and every evening, "Do it again" to the moon.

It may not be automatic necessity that makes all daisies alike; it may be that God makes every daisy separately, but has never got tired of making them. It may be that He has the eternal appetite of infancy; for we have sinned and grown old, and our Father is younger than we."

― G.K. Chesterton, Orthodoxy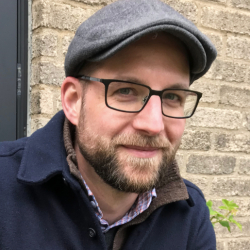 Latest posts by James D. Witmer
(see all)