This week is the Story Warren's first appreciation/thankfulness week, where we take an entire week to celebrate a person whose imaginative work we feel is a gift to parents and children. This week we celebrate Andrew Peterson: singer, songwriter, and novelist.
That's right, novelist! We talk a lot about Peterson's music, but the week wouldn't be complete if we neglected his books – three young adult novels and a fourth on the way. All of them: On the Edge of the Dark Sea of Darkness, North! Or be Eaten, The Monster in the Hollows, and the yet-unpublished fourth book, are part of a series called the Wingfeather Saga.
The saga centers around a family of three children – two boys and a girl, who I suspect are not entirely unlike Peterson's own family. The Igiby children live with their mother and grandfather in a small cottage in a small town on the edge of the sea. They live in an enemy-occupied country, with prowling guards, arbitrary search and seizure, and an imposed curfew. But Janner, Tink, and Leeli are well-loved and happy – except that Janner, the eldest, is becoming frustrated with feeling responsible for his impulsive, adventurous little brother.
Peterson's books embody the Story Warren ambition of fostering holy imagination in children, and they do it in the most story-ish of ways. Set in a fantastical world with beautiful and terrifying sea dragons, bountiful cottage gardens, and vicious, forest-dwelling Toothy Cows, the story never reaches for allegory to justify itself. Peterson trusts Truth – and his audience – to be stronger than that. There is no theophany, not even a wise and unnaturally patient old wizard to guide the characters. But Peterson works warmly, compassionately and unflinchingly with the holy Christian themes of courage, beauty, self-sacrifice, love, sin, forgiveness, family, and redemption.
Peterson is no stranger to these topics. He once referred to his album The Far Country as "A joyful little album about death." Counting Stars is an album-length exploration of what it means to be so grounded in home and family that we see God's transcendence shining through the simplest moments:
Well, tonight I saw the children in their rooms
Little flowers all in bloom
Burning suns and silver moon

And somehow in those starry skies
The image of the Maker lies
Right here beneath my roof tonight
It is not surprising, then, that the Igiby children cannot stay forever in their little cottage. They find that, to become who they were born to be, they must leave – becoming strangers in strange lands. Throughout the chaos and loss, the children unravel the mystery of their past and slowly uncover their heritage. It is this sense of legacy that sustains them in their odyssey, and rebellion against it that produces some of their deepest despair.
Peterson tackles this same theme in his new album, Light for the Lost Boy. The songs were originally written for his children, but some of them seem as though they could have been written for Janner, Tink, and Leeli:
I wanna go with you / but I can't follow
So keep to the old roads
keep to the old roads
and you'll find your way.
The Igiby children are sometimes alone, but never abandoned. They must make hard decisions, and they sometimes choose poorly. They suffer the loss of their innocence, finding evil all around them, and also within. They face consequences and mercy.
The Wingfeather Saga is the story of three children discovering what we all must learn – That climbing trees is the only escape from toothy cows.
That the noble but malodorous Chorkney saddle-birds smell worse on the inside.
And that (to steal another lyric from Light for the Lost Boy):
Maybe it's a better thing… to be more than merely innocent
Oh, but to be broken then redeemed by love.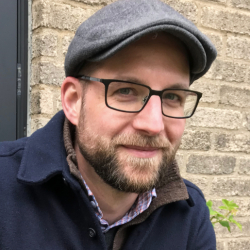 Latest posts by James D. Witmer
(see all)