See the young father coming home from work. He is bone-tired, especially between the ears. If this was the late 1950s, he would kiss his wife on the way through the kitchen, pat his kids on the head on the way through the living room, and disappear with an adult beverage into the den for some peace and quiet before dinner.
But this is not the 1950s, he appreciates his wife, his children need loving attention, and he shouldn't drink on an empty stomach.
Is he lying down? In the middle of the living room floor? His eyes are shut. He can't be serious. No way is he getting a nap down there.
Five seconds. Ten seconds. Twenty blissful seconds. Plop.
A toddler straddles his rib cage. There is a long moment of stillness; a suppressed giggle. Daddy fingers slowly creep, unseeing, up chubby legs, then attack toddler ribs like jumping spiders. Squeals, laughter, then toddler is up, galloping away, and the mask of tightness squeezes less harshly at his temples.
The floor shakes with a grade-school stampede, and he casually curls onto his side, still "asleep." Small (but oh-so-grown) bodies pile on top, thumping knees and probing fingers, searching for a reaction.
"Wake up!" They tease, so he snores loudly. A couch pillow slaps upside his head. Someone absconds with one of his socks. Still he snores.
Focused on the simple silly goal of counterfeting sleep, his mind forgets the urgent things and begins to unwind. Something like joy begins to well up in his belly, bringing with it a surge of energy.
Suddenly little fingers find a ticklish spot, and the "sleeper" can pretend no longer. The heap of little people shakes, heaves, and fragments into shared laughter. He has found rest.
Now daddy's really home.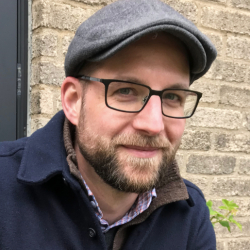 Latest posts by James D. Witmer
(see all)