I am a book crier. My first time reading Andrew Peterson's The Monster in the Hollows, I was pregnant, and ugly crying so hard my husband didn't know what to do with me ("You.. you okay over there?"). My mom tells the story of me as a five-year-old, finishing Charlotte's Web for the first time, weeping at Charlotte's passing. It still happens quite a lot, and surprisingly often this summer when reading picture books out loud to my kids. It usually catches me off-guard, so I've begun to pay attention to the kinds of stories, and the moments, that hit me hardest.
Lately, it's been simple stories. I've been choked up by Brambly Hedge, by the Caldecott winner Hello, Lighthouse, and the classic from my childhood, The Year on Maple Hill Farm. It's always the same moments, every time, no matter how many times we read them together.
These stories are not exciting tales of adventure and high jinks, but simple tales of everyday life, of repeated rhythms and the natural progression of time and growth. Brambly Hedge, by Jill Barklem, is a series of stories about an idyllic mouse community who celebrate snowfalls, weddings, baptisms, and birthdays with a Wendell Berry-esque idea of membership. It almost reminds me of what the new earth will be like: a deeply rooted community of members living and sharing, working and celebrating together. In Brambly Hedge it is love, not conflict, that makes the story.
Hello, Lighthouse, by Sophie Blackall, is an ode to the days of lighthouse keepers, told through the life story of one keeper. We do not know his name, but we see him get married and have a daughter within the daily rhythms of the duties of the lighthouse. Though there are storms and the perils of living away from civilization at times of childbirth or illness, these are not the main components of the story: it is the routine of life, the progression of days and faithful fulfillment of duty that builds a beautiful tale.
The Year on Maple Hill Farm, by Alice and Martin Provensen, takes a stroll through the calendar year, each page telling what happens on the farm during each month of the year. In February, children skate on the forest pond; in June, everyone enjoys the flowers. It is the last page that always gets me:
An old barn owl is the only one awake to greet the January of another year. No, here are the deer, come silently to the barnyard for a bit of salt and a little left-over hay. And the quiet fox is making certain the chickens are safe in bed this New Year's Eve.

— The Year on Maple Hill Farm
It is a simple promise of a new year, of the continuation of life. There is great beauty in the sustaining of life around us, the predictable patterns of the creatures around us, the completion of something good that yet continues on.
We are made for routine, for rhythm, and for the celebration of these dailies. Though it is good for us to be reminded that the world is full of dragons, and that these dragons can be slain, it is also good and necessary to remember that most days of our lives are not taken up with dragon slaying. Most days are made up of brushing teeth, gathering eggs, folding laundry, finishing homework, making dinner — tasks that are repeated over and over, daily, forever until we die. Rather than relegating them to the realm of mundane unimportance, these stories celebrate them.
— and we should not scorn these simple tasks as less worthy of our attention and love. Annie Dillard famously said, "How we spend our days is, of course, how we spend our lives." These stories bring tears to my eyes because they remind me, and my children, that these acts of repeated faithfulness are good and worthy ways to spend our lives. As Paul wrote, this is living a life of love; as Jeremiah advised, this is seeking the peace of our city.
When my kids look at me questioningly, when my voice gets funny reading these stories, I tell them I'm feeling things because this is beautiful, and true. Gathering with beloved friends to celebrate a baptism, working faithfully and quietly, observing the cycle of the months and years — these are stories worth telling, even if there are no dragons.
---
Featured image by prostooleh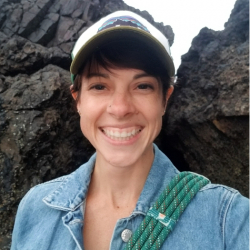 Latest posts by Millie Sweeny
(see all)