Do you know a budding storyteller between the ages of four and eighteen? Our friend, artist Jamin Still (https://jaminstill.com), has a terrific opportunity to offer them.
Jamin has generously donated this beautifully magical painting as a story illustration. What that story says is up to your budding writer!
Have your young author write a bit of short fiction, 1,000 words or less, inspired by Jamin's painting, and send it to me in the body of an email: submissions@storywarren.com by November 1, 2018.
(We're counting on you, as parent or guardian, to approve your child's submission and the name or pen-name you want to appear with his or her story. Please include your author's age.)
I will post our three favorite short stories on StoryWarren.com during November and December of 2018, and in December all the stories I receive* will be digitally bound into a printable PDF with Jamin's painting as the cover. Then we will include a link for downloading the PDF in our weekly email, Warren and the World, so each contributor can print their own story, with Mr. Still's illustration. Subscribe to Warren and the World to receive your link!
Happy Writing!
*Story Warren reserves the right to refuse any stories that are flagrantly opposed to our stated values. We also reserve the right to decide what "flagrantly" means in this context.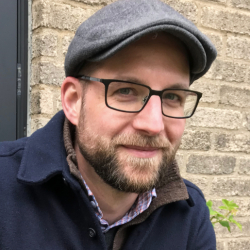 Latest posts by James D. Witmer
(see all)