SW: This is a big Spring for you, and—without exaggerating—for thousands of kids and families around the world. That's because you're releasing the fourth and final book in your Green Ember series: Ember's End. Are the cliff-hangers over? Will we finally get all our questions answered?
SD: I am thrilled to be sharing this story with those families. I have been hoping and (literally) praying to be able to write The Green Ember Series to its conclusion. I'm deeply grateful to have been able to do that at least to my own satisfaction. Many readers and I differ on what qualifies as a cliffhanger, but I will admit that they are at least reduced in this volume. I don't want to give anything away, but questions will be answered and hard resolutions are in the offing.
SW: The lives of rabbit siblings Heather and Picket have been our main window into your world of Natalia. But it's a big world, and you've already explored a bit with your Tales of Old Natalia books 1 & 2, and the Jo Shanks side stories: The Last Archer and The First Fowler. Can we look forward to more stories about rabbits with swords (and bows)?
SD: I imagine the world of Natalia as massive castle, with some big main rooms most of us (who care) have visited. The side-doors and the ancient part of the place have been explored too, in a few brief adventures, but there is much more to be discovered. I know a lot about it, but I'm not sure how much will ever make it into tales. I have several series brewing in my mind, but I'm not sure which might be the next place to uncover and explore. In short, I at least want to write another in the Tales of Old Natalia series and I'd love to write one more Jo Shanks adventure. And there are other adventures, in series and solo form, I'd love to tell. But I have other stories, outside Natalia, that I also want to share.
SW: If you could live in any city in Natalia, where would you go?
SD: First Warren. It's got an old city section, which I always love, and has rural areas and town fairly close together, as well as a beautiful lake with forbidden islands.
SW: Some children's series are known for getting darker and more difficult as they progress. For the parents out there, can you tell us whether Ember's End will be suitable for the same ages as The Green Ember?
SD: It's more intense than The Green Ember, certainly. I think if your kids made it through Ember Rising relatively unscathed, they should be fine for Ember's End. It is intense at times, as Ember Falls and Ember Rising were. I think most of my readers would be sad if it wasn't.
SW: You hinted at it above, but can you tell us more about what other books you are, or may, be writing?
SD: I can't say too much yet, but I have been writing more. Don't be surprised if I do write some things outside the intended age range for the Ember books. I might have a YA book in the pipeline as well as picture books. If I live, I will get back to middle-grade, but I may explore the borders a bit first.
I'll also keep working on my nonfiction book for writers (especially, I think, for young writers) called Make. Believe. It's being written in response to the hundreds of questions I've been asked about writing from young storytellers at signings, talks, and in letters. I hope and pray it serves them well. I'm very excited about this book, and I hope I can share it in the not-forever-distant future.
Pre-order Ember's End today:
on Amazon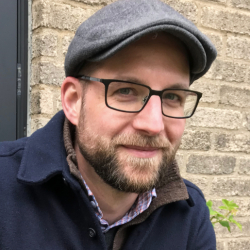 Latest posts by James D. Witmer
(see all)