In Bird by Bird, Anne Lamott advocates "writing [lousy] first drafts." In other words, she says no-one should be trying to refine as they create. She compares writing to taking a Polaroid – just snap the picture! Then do the work of shaking it and you'll see it slowly come into focus.
Partway through our oldest daughter's elementary schooling, my wife and I started encouraging her to follow Lamott's advice. She spelled badly – in other words, normally for a kid her age. But she had been paralyzed when it came to writing, not wanting to try, because she didn't want to spell something wrong. So we compartmentalized, and stopped correct her spelling outside of spelling class. Instead we focused on encouraging her just to DO the writing.
I think it helped; she slowly started to loosen up, and writes much more freely now. But we are seeking more than mere tactics. We want perspective, a way to model freedom for our kids, right?
I've written on this subject before, but now I want to recommend (for parents) the book that has done most to guide my thinking: Scribbling in the Sand, by Michael Card.
I first bought Scribbling in the Sand because of the sub-title: Christ and Creativity. As a person bullied by the near-constant shoving and nagging of creative urges, I can't help being interested in "creativity." Knowing all the Christ-centered art Michael Card has produced, I wanted to hear anything he had to say about connecting the two.
He started by opening my eyes to see Jesus as a creative person.
I know, I know:
"By Him was made everything that is made, and apart from Him nothing was made that is made"
Jesus = creative. Duh. But that's on the cosmic scale, and Card begins with the story of the woman who was caught in adultery.
The Pharisees and teachers of the law drag her, apparently straight from bed, to the temple courts, and stand her in front of Jesus. They pose Him a socio-political conundrum: will Jesus advocate breaking Roman law by executing her, or will He teach disobedience to the Torah, which demands she be stoned?
He does neither, squatting down and scribbling in the sand with His finger. When they badger Him for an answer, he stipulates, "Let any one of you who is without sin be the first to throw a stone at her." Jesus goes back to doodling in the dirt, and one by one her accusers slip away. And Michael Card writes:
To this day we have not the slightest idea what it was Jesus twice scribbled in the sand. By and large the commentators have asked the wrong questions…. They ask what without ever realizing that the real question is why. It was not the the content that mattered but why He did it. Unexpected. Irritating. Creative. …What Jesus did that morning created a space in time that allowed the angry mob first to cool down, then to hear His word, and finally to think about it, be convicted by it and respond – or not. …Jesus' action created a frame around the silence – the kind of silence in which God speaks to the heart.
Several times throughout this book Card tells a story about Jesus that I thought I knew and, with a deft twist of the glass, shows me a Jesus I never recognized. Not just a healer of the sick and fixer of the broken, but an Artist. And not just The Painter of a Thousand Sunsets, but a sidewalk chalk-artist at work in the dust of a small-town.
This understanding could free a Christian from struggling with the role of creativity in life. Why be creative? If one looks at the modern American church, and at modern creativity, an answer may be difficult to find. They seem to be at odds. But looking at Jesus makes the answer easy for a believer. Why be creative?
To be like Him.
That alone would have been worth the price of the book, but Card shares much more from his store of experience, struggle and Biblical study. He spends an entire chapter exploring the creative impulse in light of God's beauty, and opposed to the trap of celebrity-ism:
Creativity is worship insofar as it is, at its essence, a response. I hear the Word, and I respond with silence, in adoration, in appreciation by picking up the basin and the towel. It is a romantic response to this Person whom I adore. He is beautiful! I want nothing more than to be in his presence. I love him! And so I sing and I write. If I could paint or dance I would do that as well. I forgive someone who couldn't care less about being forgiven. I try to reach out across the vast distance between me and my brother or sister.
Because it is a response, it does not originate with me. He speaks. He moves. He is beautiful. We respond. We create. We worship.
Card also explores the creative process, the transcendent quality of a new song, and the critical need of any artist – any believer – to develop a lifestyle of listening. And he does so in a way that is startlingly relate-able:
It is the wee hours of the morning. Everyone is asleep but me. I have spent most of the day aimlessly moving words around on a piece of paper, taking inordinately long breaks to play games on my computer, telling myself I need to shift the focus for a while. Then, usually around two or three o'clock, when I run out of distractions, everything comes together. Often I realize in the middle of the process that I have not taken the time to ask for God's help or even simply stopped to spend time together with him, to gaze into his face.
I love that Card is familiar with all the distractions, issues, and fears creative people battle, and yet his book brings me back over and over to the feet of Jesus, the true Creative. It has validated and freed me in many practical ways; it might do the same for you.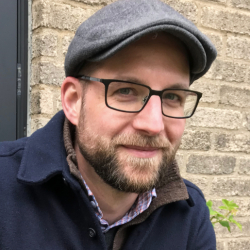 Latest posts by James D. Witmer
(see all)