Let's get this out of the way first: Big Red is a boy-meets-dog story in which the dog doesn't die in the end. That won't come as much of a surprise once you begin reading, because Big Red, like his seventeen-year-old trainer Danny, is a survivor.
This book was originally published in 1945, and the publisher's blurb read:
"Big Red" was a champion Irish setter; Danny a young trapper who knew more about the ways of varmints and hounds than of the world of fancy kennels and dog shows. But Red's owner knew a good dog man when he saw one, and entrusted Red to Danny's training.
I read this book many times while growing up, and I enjoyed it. But reading it again this year, I realized just how much rugged goodness I had taken for granted.
The Men
The "young trapper" Danny and his father live in a shack in the Wintapi, New York, wilderness. They squatted there years before the vast acreage was bought up by Mr. Haggin, and they live there still under an agreement in which Mr. Haggin allows them free run of the forest, requiring only that they leave the most valuable timber uncut.
Danny's father, Ross, is a widower and poor by nearly any standard. But as a woodsman, he supports himself without needing anything he cannot earn from the wilderness. Hunting, trapping, fishing, foraging, and husbandry are his daily life, and he has passed these skills on to Danny. The two of them live in a harmonic interdependence–each determinedly self-reliant, seeking to be the giver rather than the recipient, yet easily accepting from one another the services they cannot perform for themselves.
I love the way Kjelgaard makes plain the love between father in son, and that they are both aware of this love, without either of them needing to say it aloud. I was struck by Ross' stubborn respect for Danny's decisions, even when he feels hurt by them, and by Danny's sincere desire to please his dad even when his conscience prevents it.
Mr. Haggin quickly becomes the second-most influential person in the Danny's life. Throughout the story, the wealthy man's most notable characteristic is the dignity with which he treats every creature he touches. Mr. Haggin is not a soft man, but it's his pragmatic brand of generosity that allows the story to happen at all.
The Dog
An Irish Setter might seem like a strange companion for a deep-woods trapper, because it is. Setters are show dogs and bird-hunting dogs; trappers are best served by hounds. But Red (Mr. Haggin's dog) is a beautiful animal whose perfection Danny intuitively understands and loves. The tension between their separate estates drives much of the story's conflict and character growth. Love brings boy and dog together, but it is Danny's willingness to change that binds them.
The Bear
Old Majesty is an enormous, almost-mythical specimen of a black bear. He fills the role of Monster In The Dark, an impossible dragon for the hero to slay. He is an early influence drawing Danny, Red, and Mr. Haggin together. He provides the greatest threat to, and ultimately the fulfillment of, Danny's dreams. Most of all, Old Majesty embodies the untamed, destructive, yet untainted power of the wilderness where Danny lives.
The seasons change several times over the course of this story, and Kjelgaard allows us to see, hear, smell, and taste a forest very like the one where I grew up. It is clear that he lived in, and loved, a place nearby; he describes flora and fauna, hill and stream, with the insight of a practical naturalist. As I read Big Red this time, it was pleasant to see how the author used the steady steps of the men, the dog, and the bear as stitches that sew together the changing moods of his wilderness setting. Big Red is a book of hardscrabble virtue and I think it should be part of every boy's life.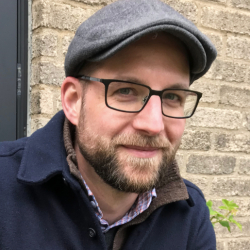 Latest posts by James D. Witmer
(see all)