Trickle-down imagination, SD Smith calls it:
"We want to share [things] that will inspire, encourage, and foster holy imagination in you. Children become engaged when we are engaged." (Why Story Warren)
That's what Russ Ramsey's Behold the Lamb of God has done for my family this year.
An advent narrative with twenty-five readings, Ramsey's book has helped me to engage Scripture with an informed imagination. This means he's taught me facts surrounding the people and places of Jesus' birth, but not facts only – Ramsey's writing has helped me to better experience the world Jesus lived in.
In the reading for today (December 17) he writes about Herod, King of the Jews:
Galilee was a tough region to rule. Over time it had become a haven for brigands – land-pirates who were choking out trade and chasing away any sense of safety in the region. For Herod to gather his portion of Cassius' [tax] for his father, he had to bring Galilee under his law, which meant putting down the lawless.

Herod got what he wanted. Though he never totally eliminated his opposition, he proved to be a shrewd tactician among the Galileans….

One of the marks of Herod's leadership was his paranoia. The older he grew, the less he trusted anyone…. His reputation for ruthlessness in response to disloyalty was most evident in the growing list of wives and sons he had put to death for conspiring against him.

…There was a certain logic behind his volatility. Herod's family stood with their feet in two worlds – one in their inherited Judaism and the other in Roman politics. For Herod, both required a tight grip and a watchful eye.
This helps me understand Herod better.
It helps explain the seriousness of the charge later brought against Jesus, that, "he said he was king of the Jews." (Luke 23:2-4)
It helps to explain why Herod was so ruthless in his pursuit of the baby Jesus.
And it emphasizes the miracle of God's coming to earth. He claimed, no less than Herod, the title of King – politically, geographically, and totally. But Herod claimed his rule by the fearful and futile shedding of his subjects' blood. Jesus' claim rests secure in this: That he shed his own blood, and yet lives eternal. Gloria in excelsis Deo!
I am thankful for Ramsey's Behold the Lamb of God and how it, by extension, is enriching my family. If the idea of trying to read the whole book by Christmas overwhelms you, rest assured that you can begin on any day and still understand the readings. Or, you can do what I did last year, and buy it now in the anticipation of reading it next year!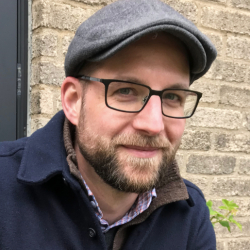 Latest posts by James D. Witmer
(see all)