If you're looking to start reading poetry regularly in your family, Robert Louis Stevenson's A Child's Garden of Verses is an excellent place to begin. You may be surprised at how some of the poems are already familiar to you! The following poem is one of our favorites from the collection, and it comes first in the book.
In winter I get up at night
And dress by yellow candle-light.
In summer, quite the other way,
I have to go to bed by day.
I have to go to bed and see
The birds still hopping on the tree,
Or hear the grown-up people's feet
Still going past me in the street.
And does it not seem hard to you,
When all the sky is clear and blue,
And I should like so much to play,
To have to go to bed by day?
Perhaps your family has spent some time talking about that cruel reality of childhood summers: going to bed while the sun is still up. Kids, maybe if you read this in a very sad voice to your parents, they'll let you stay up tonight!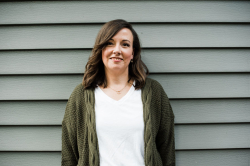 Latest posts by Kelly Keller
(see all)