Over the weeks and months of staying home brought on by Covid, I looked for ways to keep things exciting inside our four walls. One day threatened to blur into another as the seven of us bounced off each other inside the house. Boredom and repetition made us all a little bit crazy.
For a while, I introduced my family to documentaries every lunchtime. We made our way through Michael Pollan's excellent series Cooked, we learned about the history of Dr. Pepper, we got to know some very enthusiastic chicken owners, and we visited the residents of Vernon, Florida. But the easy winner of this category was a man named Phil.
Somebody Feed Phil is the creation of Phil Rosenthal, creator and writer of the hit sitcom Everybody Loves Raymond. This newer documentary-style show lets Phil do two things he loves: travel and eat. Every episode features a city or country; some are here in the United States; some are abroad. As he visits the location, Phil meets up with residents over food and learns more about the place they call home.
As you'd expect from a comedy writer, Phil is quite funny. He is also a student of people, and his natural curiosity makes him a humble learner in the various situations he's put in. When he visits San Francisco, he tags along with the two most famous locals involved in the food scene: Alice Waters (of Chez Panisse fame) and Thomas Keller (of The French Laundry and others). But he also sits in the back of a pickup truck with construction workers and learns about their lunchtime routine, buying from a food truck owned by someone they know only as "The Lady."
To give you a better picture of this show, I decided to zoom in on two episodes from the most recent season: one in Chicago, and one in the Mississippi Delta.
When he's in the Windy City, Phil takes ordering instructions from locals at a sausage stand. Eventually, he ends up buying a "round" for everyone in line. Since there's no seating at the place he's chosen, he eats on the back of the production pickup truck. The next day he's on a bus from the Urban Growers Collective, visiting neighborhoods in the south side of Chicago that would qualify as food deserts. Then he's on to a Michelin star restaurant for dinner. He fits in a city architectural boat tour, and winds up at Ebenezer Missionary Baptist Church for their Sunday service, tearfully singing along with the gathered congregation.
The Mississippi Delta episode is a bit different since Phil is driving through the delta. He begins the tour in Memphis, at the Peabody Hotel, where he helps the famous ducks from the lobby fountain find their way to the hotel roof apartment they call home. Next up, he's a judge at a church men's cook-off, befriending a quiet lady who's helping him taste and pick the winning appetizer. He lands at a BBQ restaurant (Abe's in Clarkdale, MS), which is owned and run by a son of Lebanese immigrants. He sits at "The Table of Knowledge" with retired men who meet each day for lunch at their local main street lunch spot. He winds up his time with friends and locals at a meal where everyone eats alligator with "comeback sauce" (or is it "boom boom sauce"?).
Along the way, in every locale, Phil is mostly interested in the holes-in-the-wall: places with rusty signs, communal tables, and matriarchs with thick accents. His generosity of spirit and willingness to listen give people in every location time and license to tell their stories.
The culture of a time and place is determined by the people who live there. The people who live there express their culture, in part, by the food they value: what they prepare, where they eat, and who they share it with. It takes humility to enter into a place with eyes wide open, ready to receive what stories will be told. For example, I never knew that tamales were a traditional food in the Mississippi Delta. Why? Because they were brought there by Mexican farmworkers.
At the end of every episode, Phil calls his own home. In the early seasons, he talks with his Mom and Dad, later it is his Dad and his wife Monica on the phone (his mom, Helen, passed away in 2019). This is my one content warning: sometimes Phil's dad tells a salty joke during this time. To their credit, my kids (all teens) have thought this was funnier due to the fact that it's a man in his 90's telling it. I suspect if your kids are younger, it will go right over their heads.
In a time in America that seems fraught with division, Somebody Feed Phil reminds us of a better way: gentle humility, funny self-deprecation, and taking joy in what others value. As he is winding up his trip to the Mississippi Delta, Phil quotes Edith Wharton: "One of the great things about travel is you find out how many good, kind people there are." Phil serves as an excellent model of being a host, even as he is a guest: asking questions and letting people tell their stories. We hope to follow his good example.
You can stream Somebody Feed Phil on Netflix.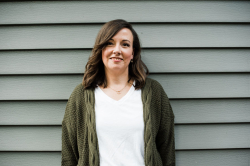 Latest posts by Kelly Keller
(see all)