I'm bad at keeping up with trendy ideas. I only recently ran across an idea from 1898, written by Daniel Burleigh Parkhurst in his still-respected book, The Painter in Oil:
Talent is just another name for the love of a thing."
But I'm a quick learner, and soon found an essay by Seth Godin, which explains:
Choices lead to habits. Habits become talents. Talents are labeled gifts. You're not born this way, you get this way."
In other words: If you love a craft you will enjoy working at it. If you work hard at it, you will become excellent. And once you have achieved excellence, other people will call you talented. Thus love = talent.
It is a lovely sentiment. But it ain't right.
We already have a word which answers to this definition, and the word is skill. Skill means "Dexterity or coordination…a learned power of doing something competently" (Merriam-Webster). If we give Skill's definition to Talent, we leave Skill unemployed, which isn't fair to him. Worse, Talent's work will lie undone, with sad effect upon us and our children.
Let me explain.
The word talent comes directly from Jesus' parable in Matthew 25:14–30. In this story, a master gives his servants each a different sum of money, and requires them to become skilled in the use of it. Those who work hard succeed proportionately to their gifts, and the master rejoices with all of them equally. But the man who makes no effort achieves nothing, and is thrown out of his master's house.
Jesus said this parable describes what "God's kingdom is like." It tells us that, while everyone is loved equally and absolutely by God, our inherent abilities are not equal – and that this variety pleases Him!
If we deny this, claiming that our love (and hard work) makes our craft better than our neighbors' craft, we commit the sin of taking credit for what God has done. And if we teach it to our children – even with the good intention of encouraging perseverance – we teach them ingratitude, which itself leads away from God.
Two people with equal love for an art can pour equal effort into hours of study, and get vastly different results. This is especially true of children, who have had less time to make up for their differences in talent.
If you are a parent, or a teacher, be careful not to write-off underperformers as lazy until you have looked carefully at their work habits. In the same way, challenge your prodigies to develop skill in proportion to their talents! And above all: Teach them both to accept with gratitude the differing talents given by a Creator who delights in their every response.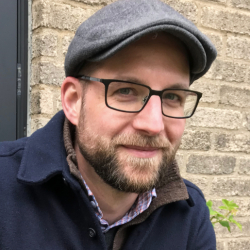 Latest posts by James D. Witmer
(see all)